Water and Wastewater Services Management
Syllabus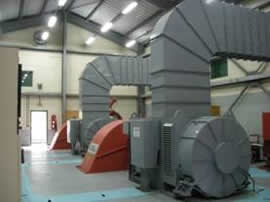 PLEASE NOTE THAT MATRICULATION TO THIS PROGRAMME IS NOT POSSIBLE AS 2016-2017 WILL BE ITS FINAL YEAR OF OFFERING.
CIEN 6000 - Advanced Environmental
Engineering
Theory of water and wastewater treatment.
Design of drinking water and wastewater treatment systems.
Advanced water and wastewater treatment systems (for example, chemical precipitation, aeration, ion exchange, membrane processes).
Biological nutrient removal systems.
Industrial ecology.
Waste minimization technologies.
Pollution prevention.
End-of-pipe treatment.
Gaseous pollutants and dispersion models.
Life cycle assessment.
CIEN 6009 - EIA of Water Resources Projects
Objectives of EIA.
Legal context.
Scope of impacts of water resource projects, visual, audible, smell, water quality, contaminants in water and on sediments, pollution ecology, quality standards.
The impact of water resource management on urban and rural communities.
Watershed impacts.
Mitigation and remedial measures, control measures, consequences of infringement, monitoring and management.
CIEN 6010 - Advanced Engineering Hydrology
Hydrologic processes.
Climate change issues.
Hydrologic data.
Design of hydrometeorological networks.
Probability and statistics for hydrology.
Modelling approaches.
Stochastic modelling.
Deterministic modelling.
Model applications.
CIEN 6011 - Water Resources Metrics
Descriptive statistics.
Measurements and monitoring techniques for hydrometeorological surveys.
Sediment and water quality sampling techniques.
Emerging technologies and best practice.
Satabase development.
Spatial techniques.
COEM 6018 - Independent Research Project
The material covered will be a reflection of the student's own requirements/interest. In general, all projects will demand:
Problem identification and definition of objectives.
Planning and execution within time and cost constraints.
Information search and its interpretation.
Evaluation resulting in the making of conclusions.
COEM 6006 - Construction Accounting And Finance
Introduction to accounting.
The nature and purpose of financial accounting, business entity, different forms of business organisations.
Business law and the company act, chart of accounts, recording accounting transactions, the accounting cycle, profit and loss statement, balance sheet, accounting ratios, accounting controls.
Introduction to Management Accounting.
Cost classification, methods of costing, job costing and contract costing, integrated accounts.
Introduction to Financial Management: project financing, budgeting, financial planning and cost control.
COEM 6009 - Contract Management And Construction Law
The elements of the Law of Tort.
The impact of law on the delivery of goods and services.
Types of contracts.
Different procurement systems.
Standard form of contracts (specifications codes of practice; standards, statutes and local government regulations).
Identification of skills required, manpower planning and development, education, training, recruitment, certification, Industrial climate, politics, trade unionism, disputes and conflict resolution methods.
Professional codes of ethics, professional liability.
Claims.
The risk assessment of time, cost, quality, health & safety, sustainability and environmental issues.
Introduction to international law.
COEM 6020 - Research Methods
The topics covered in the unit will include:
Principles of research.
Information sources.
Research design.
Research methodology.
Data collection.
Data analysis.
Presenting research proposals.
Writing research reports.
COEM 6025 - Practical Team Project
The projects are based upon real schemes and involve:
Information gathering.
Planning.
Organisation.
Co-ordination.
Detailed assessment of ideas.
Reporting.
Presentation.