Canada Hall of Residence - Refurbishment & Renovations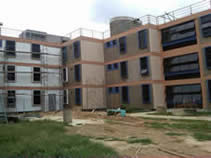 PROJECT BACKGROUND
Canada Hall of Residence was the first Hall of Residence constructed for the St. Augustine Campus in 1963 to accommodate one hundred and ninety two (192) students. It consists primarily of two 3-storey dormitory blocks (A North Block and a South Block). In 1983 four (4) rooms on each floor were converted to two kitchens (one on each floor) thus reducing the number of rooms to one hundred and sixty eight (168).
Over the years minor modifications have been done to keep the hall running, however given that the hall is now over 50 years old it was in need of major refurbishment and renovations to upgrade the facility.
The project involves the renovation and extension of the existing dormitories to conform to modern configurations for Halls of Residence. The project is being implemented in 3 phases- Phase 1 -South block (upgrade of rooms including new lobby and common areas and new furniture and fittings (desks, beds, closets, book shelves). Phase 2 relates to the same for the North block (3 storey buildings) and Phase 3 involves the construction of a new block to house 80 post graduate students and a residence manager.
Project Information
| | |
| --- | --- |
| Design Consultants: | |
| Architect: | KS Holder Architect |
| Civil/ Structural Engineers: | Lauriston Lewis Associates Ltd. |
| Quantity Surveyor: | QES & Associates |
| Building Services Engineers: | Sylvester Engineering Ltd. |
| Project Value: | TT$18M |
| Building Area: | 3,000 sq. meters |
| Type of Contract: | Design-Bid-Build FIDIC Short Form Green Book |
| Construction Start: | May 2011 |
| Expected Completion | Jan. 2013 |
| Work Package No. | Contractors | Type of Work |
| --- | --- | --- |
| 1. | F&H Engineering Services Ltd. | Demolition & Construction |
| 2. | TATEC | Electrical Works |
| 3. | Solaris Energy | Solar Water Heaters |
| 4. | Weathershield Caribbean Ltd. | Roofing Works |
| 5. | Turnkey Industries Caribbean Ltd. | Joinery Works |
| 6. | F&H Engineering Services Ltd | Finishes |
| 7. | Carrington & Co. Ltd. | Painting |
Construction Progress Pictures