Engineering Institute
Welcome
The University if the West Indies (UWI) is in a period of dynamic change. It has adopted outreach programmes with commericalised institutional building as one of the instruments to assist with its economic survival and future growth.
In response to these needs, the Faculty of Engineering had established the Engineering Institute as an approved unit of the UWI operating organisationally in association with the Office of the Dean.
_________________________________________________________
News
Upcoming Courses


Machine Learning for Engineering Applications
As part of its Digital Transformation Series, The Engineering Institute is offering the short courses "Machine Learning for Engineering Applications" and "Mastering Digital Transformation for Organizational Success". Click on the flyers to register.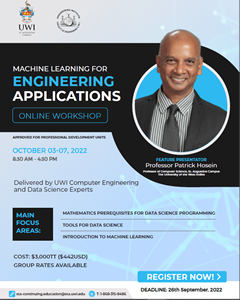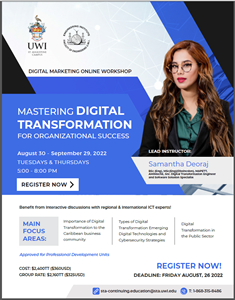 We would be most appreciative if the information above be distributed to your affiliates, members and partners as this training may be of particular interest to them and those in similar fields.
Please feel free to contact the Faculty of Engineering for further information at
Department of Mechanical and Manufacturing Engineering
Phone number: 662-6267 or 662-2002 ext. 82170, 82171 0r
email STA-continuing.education@sta.uwi.edu or mechanical.engineering@sta.uwi.edu
Mission: Providing a direct link and unified interface between the Faculty of Engineering, The University of the West Indies, and organisations in Industry as well as other sectors including Regional and International Development Agencies, so as to improve the effectiveness of the University and the Faculty in contributing to regional and national development in the Caribbean.
"Bringing Industry & the University Closer Together"