Outreach Programmes
Discovery Camp for Children
DEPARTMENT OF CREATIVE AND FESTIVAL ARTS
From the second week in July, the Department of Creative and Festival Arts is normally filled with the sound of children's voices.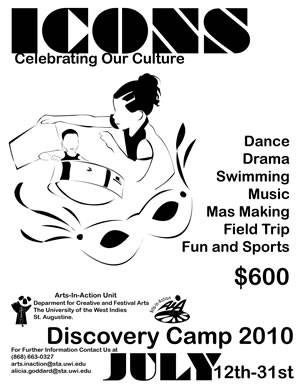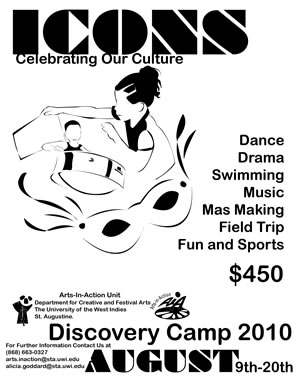 More information on Discovery Camp 2010
Discovery Camp engages children ages 5- 12 years in activities based on a particular theme or topic. Past themes have been the environment, the circus and various aspects of our heritage. Field trips also play a major part in their voyage of discovery. Trips to the mud volcano in Piparo, the museum, the brick factory and the Emancipation Village celebrations number among the eventful visits of the past. They express the experience of these activities in music (pan percussion and drums), dance, drama and art.
The exploration of multi-cultural Trinidad and Tobago culminates in a presentation by the children to their parent/ guardians. Discovery Camp allows the children to explore, gather information and express themselves in creative and exciting ways.
For further information contact:
The Coordinator
Discovery Camp
Department of Festive and Creative Arts
The University of the West Indies
St. Augustine
The Republic of Trinidad and Tobago
Tel: 662-2002 Ext. 2377 or 2510/ Fax: 663-2222