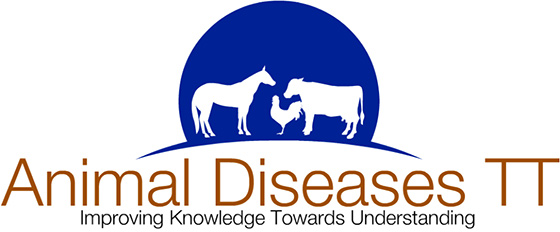 Welcome to our website!
We present here the work being carried out on a project funded by the University of the West Indies (UWI) under the Research Development and Impact (RDI) fund. The RDI fund aims to support projects on new and interesting research that is impactful to the nation of Trinidad and Tobago, as well as the wider Caribbean region.
Why are we doing this work?
Over the years the T&T Government has been committed to reposition and restructure the agricultural sector, while supporting its expansion. The Ministry of Agriculture, Land and Fisheries has expressed the wish to create a vibrant agri-business sector which will produce higher yields of better quality, in order to reduce the nation's food import bill and improve food security. In order to expand and improve the livestock sector it is essential to have sound and appropriate measures to survey for, diagnose and control the key diseases that endanger the sector.
Currently very little is known about the viruses that are circulating in the avian populations of Trinidad & Tobago. Birds can become infected through their ecological interactions and can act as carriers of various viruses that cause disease in wild bird, poultry, livestock and human populations. There is potential for transmission of viruses between wild and domestic bird species, especially when domestic poultry is kept under extensive and open conditions where there is potential for close interactions between wild and domestic species. In T&T there is a large population of wild and migrating birds that add to the diverse fauna of the environment and therefore increase the potential for these interactions.
With regards to swine, to date, little or no information has been published on the prevalence, incidence and identities of certain swine viruses in T&T and there are also no comprehensive surveillance programs for these viruses in place. The data collected in this project will contribute significantly to improving the understanding of the risks posed by these viruses to livestock and humans in T&T and the wider region. An understanding of the background levels of these viruses in swine populations in T&T will enable the development of science-based risk assessments, thus aiding the successful prevention, management and control of swine viruses.
The objectives of the project
To gain a better understanding of the animal reservoirs, the epidemiology and the risks associated for public and veterinary health of significant viruses in Trinidad and Tobago
To set up standardised techniques related to surveillance sampling and laboratory testing for animal viruses in T&T.
To obtain contemporary information on the circulation of viruses in avian (domestic and wild bird) and pig populations in T&T.
To identify and characterize the animal viruses circulating in avian (domestic and wild bird) and pig populations in T&T.
To detect strains of influenza A viruses that may pose risks to human and animal health.
To detect mutations or reassortments that may alter risks for animal or public health, and inform preparedness and control strategies.
To use the data generated in the project to carry out science-based risk assessments and to develop appropriate intervention strategies in order to prevent and control the spread of animal viruses in T&T.
Projected project outcomes
Improved Animal Health by contributing to the prevention of disease outbreaks in domestic poultry and swine. .
Improved Animal Welfare by contributing to the prevention of virus outbreaks in domestic poultry and swine.
Improved Public Health by contributing to the prevention of contacts between humans and infected birds/swine/poultry and reducing the risk of transfer of disease from animals to humans.
Improving food security in T&T by reducing the economic impact of disease outbreaks in poultry and swine, and avoiding the high costs associated with such outbreaks.
Contribution to scientific knowledge through shedding light on the level of virus circulations in animal reservoirs in T&T and improving understanding of the phenotype of individual animal viruses that are circulating.
Improved diagnostic capacity and capability by ensuring that T&T is able to respond rapidly to future outbreaks of animal viruses (and other veterinary viruses), using the latest suite of molecular and virological tests, through improved laboratory capacity and capability.