Interpreters lend a hand to Haiti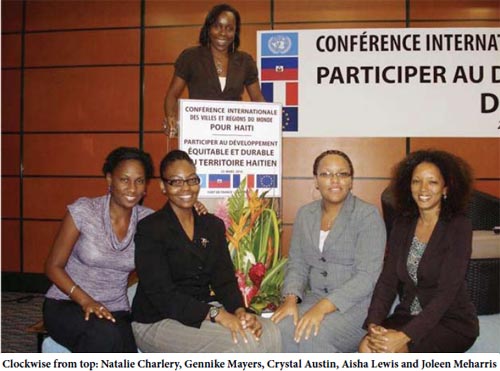 The Caribbean Interpreting and Translation Bureau (CITB) of The UWI recently sent a team of five interpreters from its pool of qualified foreign language services professionals to a conference in Martinique dealing with the Haiti recovery process.
Established in 2005, the CITB provides interpreting and translation services for clients across the region. To date, the CITB has a pool of more than 20 interpreters, nine of whom are graduates of the UWI Postgraduate Diploma in Interpreting. Most recently the CITB was asked to provide and coordinate a team of interpreters for that historic International Conference of World Cities and Regions for Haiti hosted by the French Government in Martinique in March. This conference brought together Mayors from around the world including Benin, Brazil, Canada, Spain, France, Japan and notably a large delegation of Mayors from Haiti, as well as the Mayor of New Orleans, USA, during the Hurricane Katrina disaster. French Minister for the Overseas Territories, Marie-Luce Penchard and the Haitian Minister of Interior and Local Authorities, Paul Antoine Bien-Aimé, were also present.
The objective was to pool the resources and expertise of regional and local authorities towards implementing the development plan expressly desired by Haitian authorities, particularly regarding support for local governance; to coordinate international aid, and to pool the efforts of Haitian regional and local authorities with those from abroad.
Interpreters Crystal Austin, Nathalie Charlery, Aisha Lewis, Gennike Mayers and Joleen Meharris are all UWI alumni who travelled to Martinique, along with other interpreters from Guadeloupe and Martinique. Joint team leader, Aisha Lewis, who is currently pursuing a Postgraduate Diploma in International Relations at UWI, said, "My parents are very passionate about issues affecting the African Diaspora; as such Haiti has always been a place of interest for me."
Joint team leader, Gennike Mayers, added, "This conference had special meaning for me because it was about Haiti, for Haiti and involved the Haitian Mayors themselves who were setting the agenda for the reconstruction and development of their own country."
Nathalie Charlery, a graduate of the first UWI Interpreting programme in 1994, was on duty when the Mayor of New Orleans took the podium. She recalls, "Every conference brings its share of apprehension, however it was a pleasure to be part of this exercise."
Crystal Austin has since travelled to Guadeloupe on another interpreting stint. "Working at this conference was particularly rewarding because of its main focus, which was reconstructing Haiti, and I know that it was an important step in the country's recovery process," she said.
Joleen Meharris said, "It was doubly exciting to travel to Martinique. First of all it was my first overseas conference as an interpreter and secondly it was a historic one on the reconstruction of Haiti."
The intense months of work for the Interpreting programme paid off for these graduates. They all agree that by the time they had completed their first two interpreting jobs, they were able to recoup what they had spent on tuition fees, thanks to freelance interpreting jobs through the CITB. The programme is a rigorous one, which builds and evaluates skills in note-taking for consecutive interpreting, research and terminology and simultaneous interpreting.
Interpreting Programme and CITB Coordinator Eric Maitrejean explains, "Interpreting is not just about knowing languages. It's about mastering languages and cultures. It requires a broad-based general knowledge of world issues and technical fields of all sorts but what we decided to do at UWI was to train people on the most relevant fields for the region (Education, Trade and Industry, Natural Disasters, HIV/AIDS, etc.) where we can really make a difference."
UWI has been asked to consider delivering this programme in Martinique and negotiations have also started with the Université des Antilles et de la Guyane (UAG) campus in Guadeloupe for a joint offering as there is a demand in the French overseas territories.
The third cohort of the Postgraduate Diploma in Interpreting Techniques (its new name) will start training in September 2010.