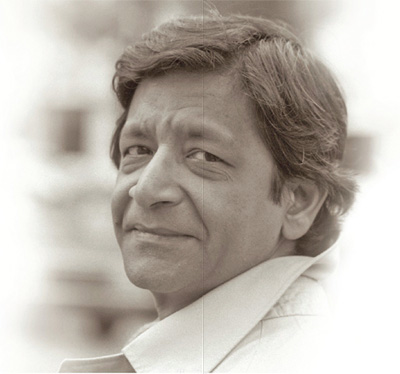 The title of this essay borrows from the two main books that inspire it, the first by V.S. Naipaul, A Writer's People: Ways of Looking and Feeling: An Essay in Five Parts and the second, Created in the West Indies: Caribbean Perspectives of V.S. Naipaul edited by Professor Barbara Lalla and Dr. Jennifer Rahim, the most recent book of criticism of Naipaul's work produced in the Caribbean after his last public visit to Trinidad and Tobago in 2007.
The connections between the two books became apparent at the time of his visit simply because I was reading the first which had been released just prior to the celebration of the Year of Sir V.S. Naipaul in 2007 at The UWI hosted by then campus Principal, Dr. Bhoendradatt Tewarie, as part of a three-year series of celebration of Caribbean Nobel Laureates, on which the second book was based. For me, the most outstanding connection between the two was the sameness of personality in real life and text – including what we had heard from a number of different sources about the writer's infamous irascibility.
Throughout his life, Naipaul's depictions of himself in his fiction and non-fiction give one the impression that he immerses himself in every experience so fully that he touches its very core. This was certainly an impression that was heightened in the chances for close encounters that his visit presented, albeit ones where he was usually on a stage and I was either a member of the audience or even more frequently, a backstage gopher. But even given this distance, one had the sense that he focused intently on one thing/ question/ person at a time even while he was aware of his own place within any whole tableaux at any point, even when that focus brought out the shortness many have feared or loathed as in his response to students during his visit.
In the hopeful desire to share something of his ability, I borrow his own words to say that because of these encounters, I think "I got to know [him] … well, though I never spoke to [him] … and [he] … never spoke to me. I got to know [his] … clothes and style and voice[s]" (A Writer's People).

This impression was indisputably heightened by the tone, pace and atmosphere that Naipaul evoked in A Writer's People which I was reading simultaneously. This is how the book begins:
"Up to about the age of six or seven I lived mainly in my grandmother's house in a small country town in Trinidad. Then we moved to the capital, Port of Spain, to my grandmother's house in the Woodbrook area. I immediately fell in love with what I could see of the life of the Woodbrook street, and its municipal order, the early-morning washing of the gutters on both sides, the daily gathering-up of rubbish into the blue city-council horse carts. My grandmother's house stood on tallish concrete pillars. It had a front verandah hung with ferns in open metal baskets …"
In clean spare lines, he draws for us his memory of the child's experience of the city and reminds us of the extreme desire for order, shelter and beauty born in infancy that every post-plantation Creole individual and group would exhibit, even when imagination could not go beyond that offered by the plantation itself. This desire lives still in the eagerness with which many shades of Woodbrook, unfortunately minus the gutter washing but still with their timely garbage trucks and hanging ferns, continue to crop up daily across the islands. The Merchant-Ivory adaptation of Naipaul's Mystic Masseur certainly captured this in Ganesh's Port of Spain setting.
In setting his first collection of stories on the street in front of his grandmother's house in Woodbrook and building an imaginary one for his narrator on it, Naipaul admits that what he wrote:
"… was a 'flat' view of the street: in what I had written I went right up close to it, as close as I had been as a child, shutting out what lay outside. I knew even then that there were other ways of looking; that if, so to speak, I took a step or two or three back and saw more of the setting, it would require another kind of writing. And if, in a greater complication, I wished to explore who I was and who the people in the street were (we were a small immigrant island, culturally and racially varied), that would require yet another kind of writing. It was to that complication that my writing, in fact, took me. I had lived all my writing life in England; that had to be acknowledged, had to be part of my world view. I had been a serious traveller; that had to be acknowledged as well. I couldn't pretend as a writer I knew only one place. There were pressures to do that, but for me such a world view would have been false.
"All my life I have had to think about ways of looking and how they alter the configuration of the world."
That first 'flat' book that we still love is, of course, Miguel Street, now found in many translations.
As Rhonda Cobham-Sander reveals, like so many of us still, although she had been taught to disdain local writing, she and her siblings read it nonetheless and her experience of this book was as follows:
"I no longer remember whose copy of Miguel Street we found wedged between the blue cushions, but I remember one suitor looking at the title and saying with an air of self-importance, 'That's Luis Street, you know,' which was the street at the other end of Woodbrook where he lived. We read Naipaul's stories out loud to each other. I remember laughing till I cried at Man Man on the cross, urging the onlookers to 'stone me, brethren, stone me!' and screaming with delight at the idea of his dog leaving symmetrical piles of droppings on the stools in the Café at the corner of Alberto Street where we regularly stopped for sweet drinks. And of course we were convinced that Man Man really must have been Mr Assee, whose endless chalked sentences on the pavement of Damien Road we were careful to circumvent when we took the short cut from the Avenue to Roxy Roundabout. It never occurred to us that we also might have been the subjects of Naipaul's satire: Mrs Cobham's daughter, hedged in by all the elaborate protocols of black middle class respectability, but longing to play out a grand passion before the cinema audiences she could not be a part of. The suitor, somebody's well behaved boy child masquerading as a Black Panther under his Afro and knitted beret, reading short stories on the blue couch when he really wanted to do something else."
Naipaul's later writing would no doubt have taught Cobham-Sander to see herself and her childhood environment with such clarity but when he began taking those few steps back and back from the immediacy of the broad contours of lives lived in a place with few divisions between private and public spaces, hackles began to rise. This happened, for example, when his ways of looking at persons were not the kind of looks the particular reader who perceived him/herself in a book's characters or setting desired or when Naipaul perhaps gave one image in a situation that required an album if not a montage of disparate images or when his one image was condemned for not being in sync with the reader's. With each book after Miguel Street that problem became more intense and when Naipaul finally began representing persons beyond the boundaries of Trinidad and Tobago, the ire began creeping increasingly across a global range. The Middle Passage brought the first repercussions and it was followed shortly thereafter by even more violent reactions to An Area of Darkness – his first book on India.
Subsequent books on India led to a somewhat toned down reaction because of Naipaul's approval for some of the developments in the modernization of India via greater technological advances. After the Nobel Prize was awarded to him, the Indian books were even printed as a single Trilogy, intended now to be read as one.
But a similar turnaround cannot be said to have occurred in the Caribbean, where umbrage has been taken about all other areas of Naipaul's writing, his books on conversion to Islam in non-Arabian territories as well as those on Africa. In fact, it is not uncommon to see essays with titles like "The Caribbean through European Eyes: V.S. Naipaul's The Middle Passage."
That is, until 2007, when a certain level of acceptance was evident in each of the articles first published immediately after his visit (in the journal Anthurium: A Caribbean Studies Journal and then in book form in 2011 with the title Created in the West Indies: Caribbean Perspectives on V. S. Naipaul) which tried to indicate acceptance that the person Naipaul was, owed a great deal to his Caribbean upbringing as did the views of the people who had a unique insight into so much of what he had written because of their shared upbringing. The book was, in short, nothing less than a discovery with Naipaul of how "ways of looking [can] … alter the configuration of the world" and how we read books about it."
Four years after the publication of Created in the West Indies, another conference sought to re-emphasize V.S. Naipaul's Caribbeanness and the familial context of his life and work. Titled "Seepersad and Sons: Naipaulian Creative Synergies", it was held under the watchful eye of the non-governmental organisation Friends of Mr Biswas, established by Professor Kenneth Ramchand to promote Naipaulian creative genius among young and aspiring writers. The book from that conference will be published by Peepal Tree Press shortly.
This book reveals new ways of looking at Naipaul and anticipates a long-lived legacy of doing so. Some pictorial memories are shared in it, as we remember how we mourned the dilapidation of the Lion House and the need for a quick intervention to prevent further deterioration; the loss of the Luis Street house; and the real life counterpart of the Shorthills house. This echoes the grief of V.S. Naipaul and his father Seepersad at the ephemerality of life in the erasure of the father's childhood dwelling places. We finally celebrate the preservation of the house on Nepal Street in St James, Trinidad.

No doubt in the years to come, many will continue to try to understand how ways of looking and feeling create the people of the Caribbean – Naipaul's people – and out of that understanding, viable futures will emerge. Naipaul is gone and all those to whom his works bring insight are grateful that he lived, and mourn his passing, but in the sure knowledge that his works will continue to deliver.

Dr Vijay Maharaj is a lecturer in the Department of Literary, Cultural and Communication Studies of the Faculty of Humanities and Education, UWI St Augustine