The Chief Executives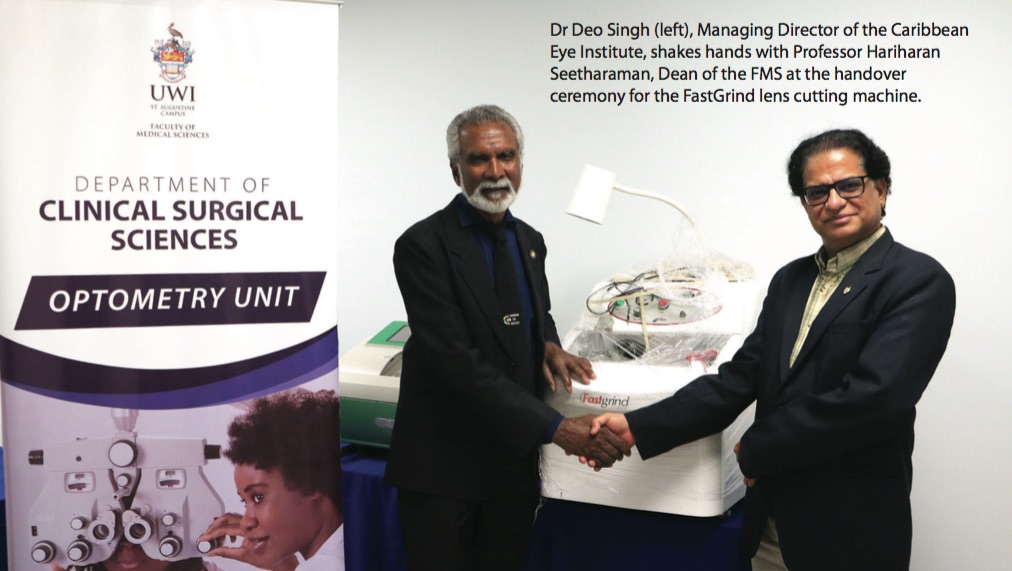 If you look at a map of the St Augustine Campus or had a bird eye's view of its green expanse, right at the centre you'd see the Office of the Campus Principal. For decades it has been the base of operations and sometimes residence of the person most responsible for the welfare of the institution and the people that comprise it.
A UWI campus principal however, is more than the most senior of administrators. UWI, after all, is more than a university. It's a unique asset of Caribbean society.
"From the last century to now, The UWI has always stepped up and stepped forward to lend support and guidance to Caribbean societies," says Professor Brian Copeland, the current occupant of the campus principal's office.
Copeland, an engineer and innovator who has focused his tenure on unlocking the campus' – and the wider society's – creative and business potential, is the eighth campus principal at UWI St Augustine.
"Our story," he says of the campus community in his commemorative address on its 60th anniversary, "is a Trinbagonian story."
Copeland is not the only campus principal to recognise the bond between UWI St Augustine and its host country.
"As a boy growing up in Curepe (a nearby community) with other friends, a number of whom were QRC boys, we often would cycle together on the St Augustine Campus, watch football or cricket games in session, or sit on the benches and talk," recalls Dr Bhoendradatt Tewarie.
Tewarie, who served as campus principal from 2001 to 2007, is incredibly accomplished, a seeming requirement for the position. Government minister, Member of Parliament, chairman of several national boards, policymaker in the educational space, and of course an extremely successful educator and administrator.
Coming from Berbice County in Guyana, Professor Emeritus Clement Sankat (campus principal from 2008 to 2016) might not have been born and raised in Trinidad, but his connection to the country and campus is just as strong.
"I came to the St Augustine Campus in 1969 as an undergraduate student in engineering and have been part of the community ever since," he says. "For more than 47 years UWI St Augustine has been part of my life."
Sankat is currently the President of the University of Belize, another achievement in a career packed with professional and academic success; breakthroughs in research and development; and contribution to the region through innovation, particularly in the agricultural sector.
His affection for the campus goes far beyond its contribution to his academic career. Sankat defies the stereotype of the distant scientist and is very much an outgoing and warm person. For him, those early student years were also about connecting with his classmates and fellow Canada Hall residents.
"I wasn't very much of an extrovert when I came to campus," he recalls, laughing. "But on Canada Hall you had to adapt fast. I lived with students from Jamaica and other islands. I grew to understand this Caribbean identity we all shared. That sense of connection and West Indian identity has stayed with me ever since."
Sankat's countryman, Professor Emeritus Compton Bourne (campus principal from 1996 to 2001) first came to UWI St Augustine later in his academic career, but as a member of the wider UWI community (he began as a lecturer on the Mona campus in 1971), he was very familiar with the campus and collaborated with his colleagues based here.
"Then I came to St Augustine in 1981 and took up the post of Professor in Economics," Bourne recalls.
Already an outstanding young academic on the higher education administrative path, these were still early days in a career that would one day lead to him becoming one of the most renowned economists in the history of the region. Among his numerous accomplishments is his position as President of the Caribbean Development Bank, and his achievement of the Order of Excellence (OE), Guyana's highest national award.
At St Augustine, his trajectory continued upward. He became a department head, then Dean of the Faculty of Social Sciences, then Pro Vice-Chancellor for Planning and Development (a university-wide senior administrative post). Still, he was not expecting that an offer for the top campus post was coming his way, nor did he particularly desire the post.
A UWI Campus Principal however, is more than the most senior of administrators. UWI, after all, is more than a university. It's a unique asset of Caribbean society.
"I'd been in university administration for some time by then so I had the experience, which is very important. However, I had also experienced the problems within the system and had been quite vocal about the need for change," he says.
Nevertheless, when the offer was presented to him, he accepted the position, succeeding Professor George Maxwell Richards as campus principal, who went on to become the President of Trinidad and Tobago.
"Ever since I was young, I liked to find solutions," says Bourne, seeing in UWI a great institution that needed new ideas, policies, systems and practices to continue its evolution. Continuous institutional re-engineering is a necessity for sustainability and societal relevance.
None of the men were either looking for or expected the position of campus principal to come to them. Dr Tewarie says, "as a young boy, I did entertain the thought that I might one day be a lecturer at UWI, but I don't think that the idea of being principal ever entered my head."
Professor Sankat, even years into his career as a campus administrator, ascending to the post of Pro Vice-Chancellor of Graduate Studies, also "did not expect to be offered this post". Yet, like Professor Bourne, who was succeeded by Dr Tewarie, and Dr Tewarie, who he succeeded, Professor Sankat competed for and gained the position.
"UWI is an invaluable institution," Sankat, "I saw in the position an opportunity to continue to do the impactful work of national and regional development on which my career was built."
All three men, as well, saw the need for change. In fact, the most persistent theme in conversations with the campus principals, including Professor Copeland, is the necessity of evolution. Just as the current campus principal has pushed for greater innovation and entrepreneurship at St Augustine, his predecessors had similar objectives.
"The Principalship was important to me because I felt that I could bring a more business-like approach and increased entrepreneurial energy to UWI St Augustine," says Tewarie, who previously served as the executive director of the then UWI Institute of Business (now Arthur Lok Jack Global School of Business). He worked as well to "expand student enrollment", "deepen research engagement" and "strive for higher standards" to enhance the campus' reputation as a "world centre for learning". Supported by capable staff campus-wide, he established the necessary infrastructure and systems to achieve these things.
As principal, Dr Tewarie was inducted to the Queen s Royal College Hall of Honour in 2004 and invited to deliver the Seventh CARICOM Distinguished Lecture in Belize in 2005. During his tenure, he met regularly with public and private sector players. He acquired Roytec, the Royal Bank-owned business school (now UWI Roytec) and sought out strong relations with major universities.
Professor Bourne was similarly focused on increasing St Augustine's international profile. "I felt we did not take enough advantage of our strengths and reach beyond our borders," he says, pointing to areas of scholarship in which the region has an advantage such as Caribbean Studies. Universities, he says, are offering such programmes internationally while relying on the work of our researchers. Seeing the monolingual competence of St Augustine graduates as a handicap internationally, he initiated the establishment of the Centre for Language Learning and Linguistics.
Professor Brereton noted in her history of the St Augustine campus that Principal Bourne's special interest in " the enhancement of facilities for sport, especially but not only for the students" led to the first appointment of a Director of Sports and construction of the Sports and Physical Education Centre.
During his tenure he also worked to transform what he saw as a "traditional, conservative academic culture" that was resistant to cost efficiency, competitiveness and performance accountability. "Some people wanted us to be like an old English university at a time when universities in the UK had modernised." He also prioritised achieving and maintaining financial health through eliciting funds from governments and strengthening relations with the local business community and international donors.
Like his predecessors, Professor Sankat's goal was to advance the institution. An innovator himself, whose application of mechanical engineering to agro-processing and post-harvesting technologies has made a major contribution to the Caribbean food sector, he put enormous effort into establishing an environment for high-potential graduate studies and research that could make a positive impact on society.
"It was important to show the value of the university through impactful research that could improve lives and further develop our nation and region," he says.
A son of the soil himself, he put special emphasis on igniting a new fire in the pursuit of agricultural education and research. Sankat once more made the Faculty of Agriculture (now the Faculty of Food and Agriculture) a separate entity in 2012, undoing a merger with the Faculty of Natural Sciences that was carried out in 1996. In 2015, after prolonged and exacting negotiations with the Government of Trinidad and Tobago, UWI St Augustine was given the 200-acre parcel of land on which the Agricultural Innovation Park at Orange Grove was established.
Attempting to list the works of three campus principals would be an essay all to itself. They were all builders and any walk through the grounds will lead you to encounter at least one structure that was erected during their tenures. Likewise, the architecture of programmes and processes, the administrative and support services, the facilities for students and staff, have all evolved under their leadership. The St Augustine Campus has come a long way.
"Oh it was very different," says Sankat, recalling what the campus was like as a new student in 1969. "It was much smaller. There were far fewer people. It was intimate. Faculty lived on the campus and engaged the students much more than today. We got invited to their homes. We went there for Christmas, which meant a lot to foreign students. There was a strong connection between students and faculty."
Yet the sense of community remains, he says. "One of the things I made sure to do was the Campus Principal's End of Year Celebration with all my people."
By his people he means the staff, as many as 2,000 of them during his time. "It was important to bring everybody together at least once a year, to maintain that strong connection. I am very proud of that."
Sankat speaks as well of the strong regionalist energy on the campus at the time. St Augustine is one of five UWI campuses and for many years it was the institution dedicated to the study of engineering and agriculture for students throughout the Caribbean.
UWI St Augustine was also a driving force in the pursuit of accreditation of academic programmes and institutional accreditation.
"The lessons learned there were all to the benefit of the regional university on quality enhancement and St Augustine was the first campus to seek and win institutional accreditation," Professor Sankat says.
All three men recognise the threat that COVID-19 presents to campus and the university itself. Yet they are all confident that UWI St Augustine can survive. The work of development however, must continue. In particular, UWI must move towards greater sustainability, lessening its dependence on subventions from host governments.
"The COVID-19 pandemic is changing the world, forcing restructuring and transformation, and demanding transformation of education. UWI needs not only to transform but to be super responsive and to innovate," says Dr Tewarie.
It's a challenging task for challenging times, but one thing UWI St Augustine's 60 year history has shown - it will always have its builders.