April 2011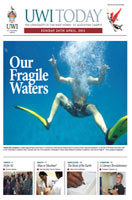 Issue Home >>
Identity and migration: Writers seek their centre
By Dr Giselle Rampaul
Over 20 readers took part in this year's Campus Literature Week, sharing their work at the noontime readings in the Audio-Visual Room of the Alma Jordan Library. The Writer in Residence for 2011 was Shani Mootoo who read from her latest novel, Valmiki's Daughter, at the Gala Reading that ended the week. Literature Week is an important event on the calendar of The UWI as it intersects the cultural life of the St. Augustine Campus with its academic life and invites the public to participate.
Among the reading writers from March 14-18, were Andre Bagoo, Jennifer Rahim, Jessy Mitchell, John Hagley, Merle Hodge, Laura Ortiz-Garrett, Danielle Boodoo-Fortune, Leshanta Roop, Kirk Budhooram, Barbara Jenkins, Ishmael Ho, Barbara Lalla, Vladimir Lucien, Lyndon Baptiste, Sharon Syriac, Alake Pilgrim, Dionyse McTair, Willi Chen, Chadd Cumberbatch, Sharon Millar, Amilcar Sanatan, Innette Cambridge, Anthony Milne, and Michael Anthony.
Writer in Residence, Shani Mootoo was born in Dublin, Ireland to Trinidadian parents. She is an internationally acclaimed writer, artist, and experimental filmmaker. Her written works include a collection of short stories (Out on Main Street), a book of poetry (The Predicament of Or), and the novels Cereus Blooms at Night, which was shortlisted for the Scotiabank Giller prize and the Chapter's First Novel award, and longlisted for the Man Booker prize; He Drown She in the Sea, longlisted for the Dublin IMPAC award; and Valmiki's Daughter, longlisted for the Scotiabank Giller prize. The highlights of her filmmaking and visual arts career include a solo screening at New York City's Museum of Modern Art and exhibition in the Transculture show at the Venice Biennial. Mootoo has held the position of Writer in Residence at the University of Guelph and at the University of Alberta. Her novels have been translated into fourteen languages and regularly appear on course syllabi at universities around the world.
This year's event was especially successful, drawing audiences from all over Trinidad especially to the Gala Reading where she read from Valmiki's Daughter. She first read an excerpt close to the end of the novel, pointing out to aspiring writers that those were the first pages that she submitted to her publisher – the pages that secured her the contract to complete the novel. She then read from the beginning of the novel, including a passage that immerses the reader into what she describes as the cacophony of sounds and smells of San Fernando. The selection of this passage would have been especially relevant for those who were at the lunchtime reading where Mootoo declared her gratitude and admiration for Michael Anthony whose short novel, The Year in San Fernando, signaled to her younger self that the place in which she grew up could be written about. There was also a film screening of three of her short experimental pieces: The English Lesson that explores the specific language situation of Trinidad along with questions about what it means to be Trinidadian; A Paddle and a Compass in which Mootoo explores issues of identity and migration; and Her Sweetness Lingers, a piece about same-sex desire that was sensitively and artistically shot. This film trio exposed the audience to the sort of issues that Mootoo also explores in her writing.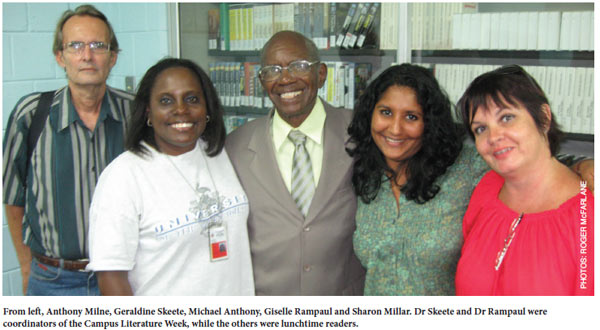 Although Mootoo meant to use her time in Trinidad as Writer in Residence to complete her new novel, she admitted that her visit has been too busy to get more than three pages of writing done.
Literature Week began 12 years ago in 1999 through Dean of the Faculty of Humanities and Education, Prof Funso Aiyejina, who introduced it as an excellent opportunity to students, staff and other local writers to showcase their talents, take part in public readings, and to get feedback on their literary craft at noontime readings.
This week of events then culminated in a Gala Reading at which the Guest Writer was featured. Because of the success and enthusiasm with which Campus Literature Week was met, Prof Aiyejina was inspired to introduce the Master of Fine Arts (Creative Writing – Fiction) programme in 2002. The Guest Writer made way for a Writer in Residence who would visit the campus, work with the students, make public appearances, sensitizing the public to the value of Literature, and would read on the final night at the Gala Reading. In the past, Campus Literature Week has hosted the following writers: Earl Lovelace (1999, 2005, 2008); Olive Senior (2000, 2003); Jan Carew (2001); Austin Clarke (2002); Lawrence Scott (2004); Erna Brodber (2006); John Stewart (2007); Rachel Manley (2009); and M. NourbeSe Philip (2010).
-To read Professor Funso Aiyejina's account of the first decade of Literature Week, please visit http://sta.uwi.edu/uwitoday/archive/ferbruary_2010/article8.asp and http://sta.uwi.edu/uwitoday/archive/march_2010/article11.asp
-Dr Giselle Rampaul lectures on Literatures in English in the Department of Liberal Arts, Faculty of Humanities and Education, UWI, and is one of the organisers of Campus Literature Week.