April 2011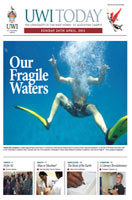 Issue Home >>
3 shortlisted for Bocas Prize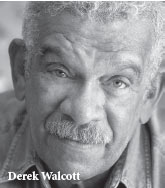 Thursday 28 April, 2011, will be a high point in Trinidad and Tobago's literary calendar, as the Bocas Lit Fest gets underway at the National Library in Port of Spain. The first major literary festival in the southern Caribbean, the Bocas Lit Fest is a four-day celebration of books, writers, and writing, bringing together over fifty authors and performers for a jam-packed programme of readings, discussions, workshops, film screenings, music, and more.
The brainchild of Marina Salandy-Brown, former executive director of the Trinidad+Tobago Film Festival, the festival is being organised by a team of experienced players from the national literary scene. And the UWI community is integrally involved. Professor Funso Aiyejina, Dean of the Faculty of Humanities and Education, is a key member of the Bocas Lit Fest board of directors, and through his intervention the FHE has given the festival tangible support. The festival programme includes a number of writers and scholars based at The UWI, or with connections to the University. They include Barbara Lalla, Elizabeth Walcott-Hackshaw, Rhoda Bharath, Giselle Rampaul, Geraldine Skeete(who organized the recent Campus Literature Week at St. Augustine, and are also organizing the 30th Annual West Indian Literature Conference, themed "I Dream to Change the World": Literature and Social Transformation in October) and professor emerita Bridget Brereton of the St. Augustine Campus; Jane Bryce and Mark McWatt from Cave Hill; and professor emeritus Edward Baugh and Tanya Shirley from Mona.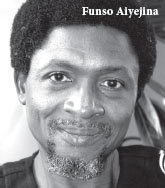 One highlight of the festival will be the announcement of the winner of the first annual OCM Bocas Prize for Caribbean Literature, a major new award recognising the best book of poetry, fiction, or non-fiction by a Caribbean author published each year. Supported by One Caribbean Media, the award comes with a prize of US$10,000. The three writers shortlisted for the 2011 OCM Bocas Prize are (Nobel laureate and UWI graduate) Derek Walcott, Edwidge Danticat, and debut writer Tiphanie Yanique.
Other events in the festival programme include a celebration of the 25th anniversary of Leeds-based Peepal Tree Press, a leading publisher of Caribbean fiction and poetry; a debate on the always-contentious issue of press freedom in Trinidad and Tobago; a discussion of the pitfalls of biography-writing; and tributes to the late writers, Keith Smith of Trinidad and Tobago and Édouard Glissant of Martinique.
Also in the line-up of participating authors are Jamaicans Lorna Goodison and Marlon James, St. Lucian Jane King, Bahamian Christian Campbell, Canadian David Chariandy, Patrick French (British biographer of V.S. Naipaul), and Trinidadians Arnold Rampersad, Earl Lovelace, Anson Gonzales, and James Aboud. Up-and-coming writers Barbara Jenkins, Vladimir Lucien, and Alake Pilgrim will feature in a special New Talent Showcase, and musician Gillian Moor and poet Muhammad Muwakil will curate a series of lively spoken word and open mic performances.
The festival also includes a full programme of events for children, the Republic Bank/KFC Children's Bocas Lit Fest.
For more information on the festival programme and events, please visit www.bocaslitfest.com.