April 2011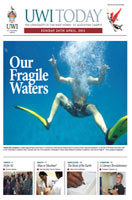 Issue Home >>
AWARD FOR DAAGA AUDITORIUM: Building of the year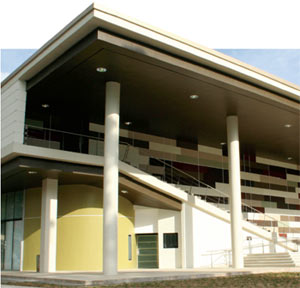 It's an arresting building; a façade that commands attention and a space that is so functional that it seems not a day passes without some event taking place on its premises. So it is no surprise that it has gained recognition. On March 21st, 2011, the Daaga Auditorium was granted the awards for Building of the Year and Large Building (less than 10,000 square feet) by Abel Building Solutions (ABS), a subsidiary of the ANSA McAL Group of Companies, at their Caribbean Construction Awards (CCAs), held at the Hyatt Regency Trinidad.
Launched in 2006, the CCAs look at construction projects throughout the region, judging them on innovation, beauty, functionality of design, and quality of construction. Specific categories include architecture, engineering and construction in large building, small building and innovation.
Daaga Hall's redesign began in 2004 when it was renamed Daaga Auditorium, with a 450-seat lecture theatre and an 80-100 seat classroom equipped with the latest audio visual, multi-media and teleconferencing equipment.
Daaga Hall – originally a recreation centre for students of The University, the old Guild Hall – was named in honour of a 6ft 6in African ex-slave soldier, one of Trinidad's earliest revolutionaries, credited with leading the mutiny of some newly imported Africans who were enlisted in the First West Indian Regiment in June 1837. He was later arrested and executed along with his fellow mutineers.