Work perks : WOW Recruitment Fair brings best of both worlds

By Omega Francis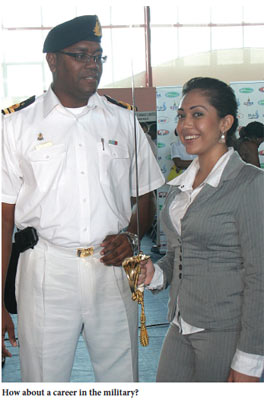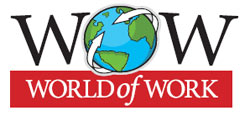 Have you ever imagined where you would be after you graduated from The University of the West Indies? Did you ever fancy working at one of those large oil and gas firms like bpTT, Atlantic LNG or even PCS Nitrogen? Did you imagine that elusive corner office and your every whim being catered to by an overzealous assistant? Or, maybe you are one of those 'new thinkers' who believe that it no longer matters where you work, or how much money you work for, or even that shiny new corner office; but how much you love what you do.
Future UWI graduate employers and former lecturers may be happy to know that the latter seems to be the thinking of the future graduates who took part in the recent World of Work's Recruitment Fair, held at the Sport and Physical Education Centre on March 17 and 18.
Yes, companies like bpTT and Atlantic LNG had the expected long lines; in fact, it took a patient student to stand in line just for a chance to speak to a representative from the big oil companies but the 'new-thinking' students knew what they wanted and tended to hone in on some of the lesser-known or even smaller companies such as the National Training Agency and Kaizen and impressed them with their enthusiasm and knowledge.
Spread over the course of two days, the first day of the Recruitment Fair was for those first and second year students interested in vacation employment, and the second day was opened for those final year students who were interested in long-term employment or internships. The enthusiastic student who dressed impeccably, who articulated what they wanted, and what they expected of a company, impressed many company representatives.
Many students revealed that the World of Work programme helped them to feel more prepared to enter the world of work and handle interviews as well as feel confident enough to face recruitment officers at the Fair. The students appreciated the opportunity that the Recruitment Fair afforded them. To be able to connect with employers on a face to face basis, all concentrated in one place, was a big deal.
"One thing I liked in particular is the fact that I didn't have to go job hunting all over Trinidad and Tobago but I had everything all concentrated here in one place…I could not have done this without the Recruitment Fair, so I am really happy for this," said Elton Richardson, a final year Bachelor of Science student.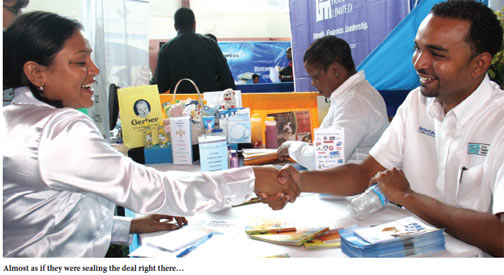 Even the recruitment officers at the various booths could not contain themselves at how impressed they were by the students visiting their booths; their enthusiasm, dress and thirst for knowledge stood out to the majority of the future employers.
Christopher Persad, Engineer 1 of Fujitsu was almost floored by his experience this year after two years coming to the Recruitment Fair.
"My experience here at the WOW [Recruitment Fair] this year has been a good one, there are so many people here and they are so enthusiastic and it's a great place to find new and young minds that are able to come into a company and grow from there."
So no matter where you see yourself in the next five or ten years – whether it's sitting behind a desk coming up with the next best communication strategy for your company, or travelling the world meeting with the movers and shakers of the international business world – no matter where you see yourself, as a UWI graduate the World of Work programme will give you that secret weapon to propel you above and beyond the average job seeker.
Maybe it will even change your way of thinking and we can all be like Aaron, a bright and eager student, who said that his idea of a dream job is: "Being productive, yet being happy with what you do. It doesn't really matter, once you feel happy with what you do and you see the benefits manifesting in your life."