The patient machine: Nurses get a different kind of man to treat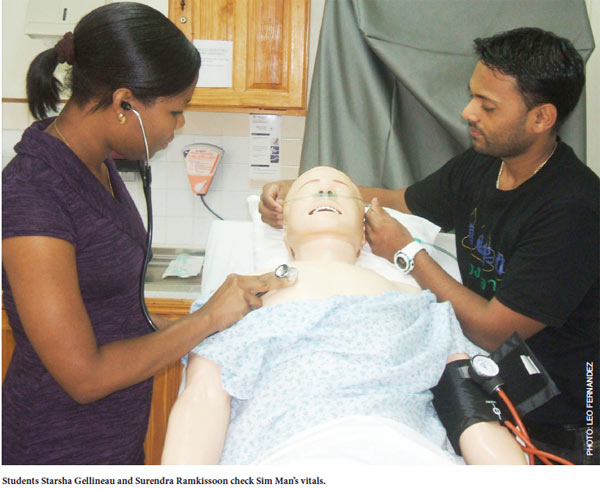 By Vaneisa Baksh
He was a male when I got to the hospital, and during the course of my visit he remained one, although for a fleeting moment I was shown a rather revealing video of him as a her with a catheter attached to her nether regions.
It could have been an altogether discombobulating experience, but I was prepared. I'd come to get a first-hand look at Sim Man, the latest, sophisticated addition to the School of Advanced Nursing Education (SANE) at The UWI.
"We can call him Johnny today," suggested Debrah Rigg, one of the three BSc Nursing (Oncology) students talking about their interactions with the high-tech teaching tool.
As I chatted with them, Starsha Gellineau, Charmaine McDonald and Nursing Administration student, Surendra Ramkissoon, referring to the mannequin-like figure as a teaching tool seemed a little …insensitive, given their obvious affection for the figure lying in the bed clad in a hospital gown, his chest rising and falling with the gentle regularity of a body at rest.
In truth, the monitor displaying constant readouts of blood pressure, heart rate, and other vital signs, combined with the assortment of tubes connecting to IV, blood, oxygen, and other whatnots, made him look more like a Johnny than a piece of technology designed to help medical students.
Sim Man is an anatomically correct mannequin who (which?) can be programmed to respond to various medical conditions and treatments. For students, it means they have a "working" model to practice and hone their medical skills on.
His realism – he speaks, has a pulse, reactive pupils – imposes a sense of responsibility on the students.
"Your perception of it is he is no longer a robot, he is now an individual who needs care," said Charmaine. "His voice even carries human intonations." (It's true, later, he had a terrible coughing fit and complained about how bad he was feeling.)
Charmaine, who had worked at the Port of Spain General Hospital for seven years, wanted to study oncology because she was so deeply affected by the plight of two cancer patients whom they could not help sufficiently because they did not have the training.
Similarly, Starsha, who has been a registered nurse for 11 years and an ICU nurse for three, where she dealt with cancer patients, says she is doing the BSc because, "I really believe there is a need to have more nurses trained in oncology, partly because of rising cancer rates and recognizing that these patients need more than basic nursing care."
Debrah, one of two Jamaicans in the programme, has worked for six years with their Ministry of Health and is now being formally trained so that she can help set up similar oncology programmes in Jamaica.
They agree that the capacity to simulate medical situations, such as a spinal cord compression or even an infrequent case of septic shock, allows them to deal with life threatening situations without themselves threatening lives.
So has Sim Man ever died under student care?
The question brings a momentary hush and sheepish expressions.
He's died a few times, they concede, admitting that they all feel it like a human loss. One student even cried.
Surendra, who has the energy of a Mr Fixit (he wanted to do Administration because, "I want to be in charge. I want to be a manager in the hospital."), lifts them out of their memories of lost battles.
"The debriefing sessions are very useful for seeing where we went wrong," he says, explaining that the sessions are taped and reviewed so that they can see for themselves how they responded under sometimes emergency situations. Most times, they say, they didn't even remember doing some of the things they did under pressure.
"Having Sim Man would not be useful without properly trained people to operate him," says Debrah, identifying Michelle Maxine King as the key operator in this regard.
Michelle, an Oncology Lecturer at SANE, is programmer/scenario creator and operator of Sim Man. It is a fairly complex role, requiring not only a high degree of detailed knowledge of different medical conditions, but reflexes to match emergency situations.
To prepare for a class, for instance, she explains that she has to create a patient chart, just as for a real person, with a name, background, medical history and presenting symptoms, plus whatever diagnosis and treatments are relevant. (Real doctors are often part of these scenarios, helping students with assessments.)
Located in a small, computerized booth next to the patient's bed and viewing proceedings though a one-way mirror, she has to be on the button, ensuring that Sim Man responds to questions appropriately (even if it is a groan), and to treatments. She's the one who will slow his heart beat to a stop when they've killed him off, and she's the one who will bring him back to good health when they've got it right.
It's challenging, she says, but it is clear that she loves doing it. In fact, it is obvious that this tool has done a significant amount to help the teaching process at SANE, which is exactly what Director, Dr Meryl Price, had in mind when she procured it for use at the Faculty of Medical Sciences (FMS).
In January, she had facilitated a three-day workshop called "Bringing Sim Man to Life," and there, to participants involving staff and students of FMS, and the College of Applied Science, Technology and Applied Arts of Trinidad and Tobago (COSTAATT) and other nursing managers, the value of this innovative addition to teaching was unveiled in all his glory.
It was a pioneering move, and given the challenges facing the nursing and the overall medical community, a welcome improvement to health care.