CONTEMPORARY COCOA INNOVATORS
Darril "Astrida" Saunders makes Exotic Caribbean Mountain Pride drinking chocolate. "From the lush mountains of Tamana Trinidad, comes an all natural artisan indigenous chocolate … which quietly lends a hand in healing common ailments and peacefully soothes mind, body and spirit." Astrida recently travelled to New York to speak at the Clinton Foundation "No Ceilings" event.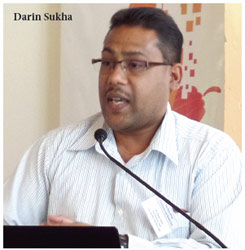 Isabel Brash's curiosity led her to dark chocolate and artisanal bonbons. She is the creator at Cocobel and a motivating force behind her brother's Rancho Quemado cocoa estate.
Lesley Ann Jurawan manages Delft Cocoa Plantations situated in Gran
Couva's Montserrat Hills, and is part of the Montserrat Cocoa Farmers Co-operative Society. She is the master chocolatier for the brand, Violetta's Fine Chocolate.
British-born Ashley Parasram is applying a new business model to the sale of cocoa derivatives and chocolate in Europe. He was featured in the Style issue of the Financial Times as "co-founder of the Riding Club London and a former international development specialist."
Parasram's Trinidad and Tobago Fine Cocoa Company Limited signed an MOU with the Government of Trinidad and Tobago and is set for an on-line launch on April 1, 2015 at www.ttchocolate.com.
Singapore-born Gina Hardy, after ten years in accounting in London, married a Trinidadian, came to Trinidad and turned herself into a chocolatier. She creates Gina's Truffles.
Businessman Richard Trotman, James Burns, the Omardeens and Café Mariposa are some other examples of modern cocoa enterprise.
These are the new breed of cocoa entrepreneurs. They bring business and marketing savvy, science and technology, to the industry which once produced beans for export. Their source for science is the Cocoa Research Centre based at The UWI in St Augustine.
SCIENCE AND HISTORY OF THEOBROMA CACAO
On the CRC website, Darin Sukha, Research Fellow, lists uses for every part of the cocoa bean and pod, including but not limited to chocolate in all forms, jams, jellies, wine, vinegar, flavourings, pigments, mulch, moisturizing lotions and beauty aids. Cocoa also has its place in the lore that claims medicinal properties – against diabetes, cardiovascular conditions, rheumatism, parasites, snake bite and malaria, among others.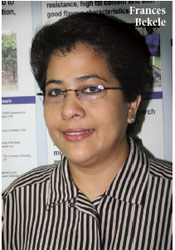 "This is not your grandfather's cocoa," asserts Sukha. The proposed Innovation Centre is the framework for "value added" businesses and investors.
Frances Bekele, who is a germplasm specialist in the CRC at The UWI and has written extensively on the history of cocoa in Trinidad, agrees.
"The Cocoa Research Centre has provided knowledge and support to many entrepreneurs, securing success and sustainability with science."
International companies like Cadbury and Mars Inc have long accessed the research carried out at CRC.
This science began almost 100 years ago when the Imperial College of Agriculture (now the St Augustine campus of The UWI) established the Cocoa Research Scheme funded by the governments of Ceylon (now Sri Lanka) Gold Coast (now Ghana), Grenada, Nigeria, Trinidad; and the firms Cadbury, Fry and Rowntree. The Scheme became the Cocoa Research Unit (now the Cocoa Research Centre).
The arrival at UWI in 1991 of Pathmanathan Umaharan from Sri Lanka heralded the era of research in cowpea, pigeon pea, hot pepper and cacao. Umaharan became Professor of Genetics, and head of the CRC, which participated in an international project to map the DNA of a Criollo cocoa variety. This opened the possibilities that the Campus Principal, Professor Clement Sankat spoke of:
"We need to rekindle interest in food and agriculture, particularly among younger people, and the work of the CRC can support this cause. Research and development, creativity and innovation would be what our university and our research must focus on if we are to make an impact."
The CRC has developed disease-resistant and more productive cacao varieties from the Criollo, Forastero, Trinitario and Refractario varieties. It also manages the International Cocoa Genebank Trinidad (ICG, T) which is a living collection of 2400 varieties of cacao on 33 hectares in Centeno, allocated by the Ministry of Food Production. The CRC recently developed its own brand of 70% chocolate, which they find hard to keep in stock.
THE INTERNATIONAL FINE COCOA INNOVATION CENTRE
In 2014, the CRC was successful in a partnership bid for funding from the EU, under the ACP Science and Technology Programme II for the establishment of the three-year IFCIC initiative. According to Umaharan, "The project has a twin mandate: the first is the positive impact of scientific and technological knowledge and research in the regional cocoa industry; the second is the collaboration of academia and the private sector to commission a physical innovation facility."
Speaking on behalf of Daniela Tramacere, the Charge d'Affaires of the EU Delegation to Trinidad and Tobago at the March 2015 conference, Kathrin Renner said, "The Caribbean is held in high regard as a cocoa-producing region for fine or aromatic (as opposed to bulk) cocoa. Fine flavour cocoa accounts for only 5% of world production and is concentrated in a few countries.
"For cocoa production to be sustainable in the long term, we must embrace technology and innovation. The IFCIC will also focus on creating innovations along the value chain: production, processing, manufacturing and marketing. The EU sees innovation as a cornerstone of progress, and will continue to support Trinidad and Tobago to promote and use innovation as the tool towards a competitive and knowledge-driven economy. Our support to the IFCIC is very much in step with the new focus for development of this country."
The Innovation Centre does require additional funding for a centre of operations – a building – and it is hoped that corporate citizens will contribute. Private sector investments in this initiative are invited.
THE ACADEMY OF CHOCOLATE
Farmers will have the opportunity to utilize recommended design and layout of a model cocoa orchard, with new plantings, on five-acre plots. Experimental orchards will be monitored for yield, flavor and quality management. Field training, in conjunction with the Ministry of Food Production, continues to foster best practice in maintaining cocoa estates. Sessions have been conducted in Trinidad and Tobago, as well as Grenada, Dominica, the Dominican Republic, Belize, and Jamaica under a Centre for Developent Project rolled out by the CRC in 2011 to 2013.
Perhaps the most important developments in the cocoa industry in recent times have taken place among entrepreneurs wanting to taste Trinidad-grown Trinitario cacao, venturing into the wide open field of "value add." The IFCIC is offering hands-on training in chocolate making. Sessions are limited to six to eight persons at a time. Around 100 persons have been trained in the last year.
COCOA ARTS AND THE INCUBATOR
The value streams from cocoa extend as far as the imagination: confectionery, health and beauty aids, medicinal treatments, cuisine innovation and new business.
Isabel Brash said, "After I ground the first set of roasted beans into a liquid state, I became possessed by the cocoa jumbie. The transformation was pure magic!" It is this potential that the business incubator will seek to release among those who want to go beyond the academic.
The Chocolate Incubator will provide equipment in "studio" settings for six creators at a time. Rapid prototyping, innovations in use of chocolate for health or beauty aids, cooking, product sampling and quality testing, branding and registering for patents will be encouraged. This stage becomes a building block towards new business.
At this time, tutors in the chocolate making sessions are CRC's Darin Sukha, Naailah Ali and Matthew Escalante. The opportunity exists for guest lecturers from the entrepreneurs who already enjoy success. It is hoped that the academy and incubator will attract students graduating in science, agriculture, food technology, business and the arts.
COCOA TECHNOLOGY
"The science allows us to develop and use traceability systems," says Bekele. "There's a chain of custody for flavour, our unique selling point. It will allow quality management and certification in each stop of the process." The technology is based on Near Infra-red Reflectance Spectroscopy (NIRS) which has already been applied to rice, timber, fertilizer, shea butter, among other crops, so that origins and fair trade practices may be assured. Advanced systems will allow cocoa farmers and chocolate producers to meet new standards in food.
Part of the IFCIC mandate is to share the vision with other fine cocoa producing countries in the region. First up is Jamaica where there is currently no national programme for breeding cocoa. This will involve genetic analysis of their trees as the basis for breeding. Training might include micro- and nano-grafting (on just emerged seedlings).
FINE COCOA MUSEUM
Trinidad has a long history in research and development of Theobroma cacao, mainly in academic papers. The vast field of cocoa folklore is mainly oral. It's time to record not only the past, but the contemporary innovations. The Fine Cocoa Museum will house a permanent collection of artifacts and historical items, alongside contemporary exhibits, publications, audio recordings and films. An art gallery, gift shop and restaurant may be included in the museum.
THE EMERGING COCOA SOCIETY
Around the world, everyone enjoys chocolate. All the cocoa for worldwide consumption is produced by about 15 million people in 50 African, Caribbean or Pacific countries, on three million small-holder cocoa farms. In 2008, the International Cocoa Organisation projected that world cocoa production would increase to about 4.5 million tonnes in 2012-13 with consumption almost on par. The annual earnings of the global cocoa and chocolate industry are now estimated at US$70 billion.
Trinidad and Tobago enjoys the advantages of science, technology, history and opportunity. It is possible for a cocoa society to rise again in these islands and the region. Here are the expected outcomes from the Innovation Centre initiatives:
Certification services adopted by at least ten regional cocoa producers;
Chocolatiers (six to eight) sourcing couverture from regional chocolate makers;
Innovative businesses based on regional cocoa sector;
New quality branding of fine cocoa from at least five farmers;
New value added cocoa ventures;
Modern cocoa breeding programme in Jamaica;
International Fine Cocoa Journal established;
CRC evolved into a self-sustaining entity.
Persons interested in investing in cocoa are invited to contact the CRC at The UWI, St Augustine.