April 2018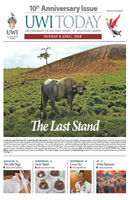 Issue Home >>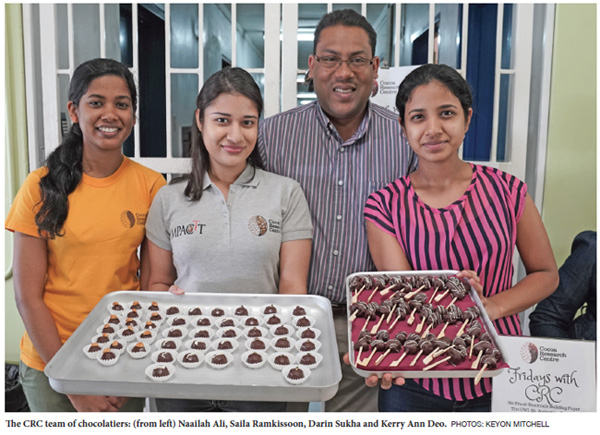 Tucked neatly in a corner of UWI's St. Augustine Campus, the Cocoa Research Centre is a well-hidden treasure. This is the home of everything cocoa and chocolate, from the fields to the workshop. Among the Centre's various specialty areas is the Food Technology section, the engineers of Fridays at CRC – a weekly meet, greet, fill-your-belly and warm-your-soul event, where you can taste their wares, made in-house from Trinidad's fine flavour Trinitario cocoa beans, learn about their work, and about the potential that lies in our cocoa fields.
A small team, the Food Technology section's scope is far-reaching. Counting Research Assistants, Saila Ramkissoon, Kersha Guevara-Jackson and Kerry Ann Deo, all former UWI students, among its members, the section's knowledge base spans the cocoa industry, from the plant's grafting stage to the end product. This ensures that the team is well-equipped to assist Trinidad and Tobago's cocoa farmers and chocolatiers develop their skills and their businesses.
The section, called "Food Tech" by its members, looks at the cocoa industry from the bean to the production of chocolate. One of its services is to provide quality assessments of cocoa beans.
"We do quality reports for different cocoa farms around Trinidad," says Saila. "People give us a sample of their fermented and dried cocoa beans and then we do our analyses on it and give them a written report" of the beans' physical assessment, their good and bad attributes, their flavour profile, as well as recommendations for improvement. We are like a certification body for quality," she says.
Saila began working at the CRC after she graduated in 2014. A double major in Environmental and Natural Resource Management and Biology gave her the experience she needed for her first role at the CRC: field work. "A lot of our labs weren't really in the lab doing experiments, but rather out in the field. I was in the Northern Range a lot … and a lot of the forested areas that are really untouched … it was fantastic." So, when she was offered her first role at CRC, in its Pathology department, doing plant pathology work at the International Cocoa Genebank, Trinidad (ICG,T) – a living gene bank, she says, with one hundred hectares of land housing fully grown cocoa trees – she was ready. She then moved to the Molecular department, where she "would have been extracting cocoa DNA from different parts [of the plant] … verifying exactly what kind of trees we have in the gene bank so that we can be sure of the variety." Saila has now worked in each department; Food Tech completing the list. "I came into Food Tech with this broad cocoa knowledge. It was super helpful."
As a part of the section's IMPACT (Improving Marketability and Production of Artisanal Cocoa in Trinidad) project, Saila also ferments and dries beans to show farmers how they can increase their beans' flavour potential. This helps cocoa farmers "move further along the value added chain and so get more money for their beans," she advises, because rather than selling the "wet beans" straight from the cocoa pod, farmers can ferment and dry them. They can then sell their roast-ready beans to chocolatiers.
To provide farmers with a proper understanding of their bean's potential after optimal fermentation and drying, Saila then puts the dried beans through the quality assessment process. After conducting the physical tests, she grinds the beans into liquor. "Then we sit as a team and we taste," she says. This is how they determine the flavour profile of each bean sample.
Liquor-making and tasting is a part of each of the Food Tech team's research assistants' portfolios. Saila's clear, however, "we taste liquor, not chocolate," in other words, they taste the pure cocoa.
"Liquor is just the cocoa nibs ground into a paste … It'll be super bitter," says Kerry Ann, adding that, knowing "bitterness is your baseline, you can detect other flavours" in the bean.
It's a skill that they've all been trained in by the Head of the Food Tech section, and Trinidad's very own sensory master, Dr. Darin Sukha. While anyone can simply taste the liquor, the team needs to be able to "ignore the bitterness … delve deeper and sift" through the different flavours, identify and record them, she says. And precision is key.
From the broader fruity, floral, vegetative and nutty characteristics, they sift down to the specific fruit, and can tell a farmer if his cocoa beans taste like mandarin, passion fruit, bananas or even coconut, which is important, since this liquor becomes chocolate. Trinidad's chocolate, they all confirm, has a distinctive raisin flavour – called a brown fruit flavour – in the cocoa and chocolate world.
Kerry Ann says that their flavour identification work helps farmers to know what their beans would taste like as a chocolate. Farmers sometimes don't understand that the flavour of their beans impacts the flavour of the chocolate they will turn into, so "whenever you're not getting through to someone, you make chocolate," she says. Once the farmers can taste and compare their beans' chocolate, to others, they understand "how beautiful their beans are or how much work they have to do," Kerry Ann explains.
The CRC's chief chocolatier, as Saila calls her, Kerry Ann's work lies primarily in making chocolate. With a nutrition and dietetics background, and a passion for product development, this role suits her. "I knew I wanted to do something, but I didn't know what it was called," she says. It was only in the final semester of her undergraduate degree, when she enrolled in the Food Product Development course, that she knew, "this is what it is!"
When her relationship with the CRC began, Kerry Ann was deep in her quest for that "aha moment," and began entering food competitions, "to measure myself, in a way, because I was not sure exactly where I belonged." She entered CRC's World Cocoa and Chocolate Day cuisine competition twice, in 2011 and 2013. Though she was disappointed with her performance the first time she entered, by the time the competition came back around, she was game. "I entered my stuff and I came first in [the] drinks [category], second in savoury, second in sweet," she says. Confidence boosted, Kerry Ann entered more competitions, including one for which she used CRC's chocolate, "and then, one thing led to the next and I was introduced to Darin. I was asked if I would like to work here [in] product development, which was exactly what I wanted."
So, she says, "I came over to the 70 per cent dark side."
Making chocolate is "truly a labour of love," she says. If you don't love it or don't have a passion for the craft, "you taste it in your work," she says. "When you're passionate about it, you are more careful with each step in the process, and make sure that things are done correctly."
Kersha adds that, though turning dried cocoa beans into a bar of chocolate may be a lengthy process, requiring a great deal of attention, it is important to be meticulous in each step, "to really do the chocolate justice." Just a couple months into her role at Food Tech, she took up this position in February, she admits to not having the passion for food shared by the rest of her team. For her, the science behind the art is magnetising.
Kersha's connection to the CRC was forged a little over three years ago, when as a Master's student in Biodiversity Conservation and Sustainability Development, she completed her thesis under the supervision of CRC's Director, Professor Pathmanathan Umaharan, and worked part-time at the CRC's Pathology department. She then moved on to the Agronomy section, which was in line with her research interests. "I was always partial to the fields and trees," she says, and her role in Agronomy allowed her to work directly with the cocoa plants.
When she was offered a position at Food Tech, Kersha saw an opportunity to interact with cocoa in a different way. Her experience working in the gene bank, directly with the cocoa trees, makes her vividly aware of how the field and factory go hand-in-hand. "One supports the other," she says, explaining that, "the value of the cocoa tree, to me, is something that some chocolatiers don't understand, [while] persons who predominantly work in the field may not always understand the value in each step of the chocolate-making process." Having come from a field-work-intensive role, she recognises the disconnect farmers may feel. For a farmer, she explains, cocoa doesn't taste like chocolate. They're concerned with the fruit – "how it looks, the size, the smell … how the pulp tastes. They can tell you about the tree." The disparity between her different experiences with the cocoa bean helps her connect it at both ends for those who seek the CRC's services. So when it comes to advising farmers and chocolatiers on their beans, she goes even further back in the cocoa production process than the bean. "I might actually start talking about your tree … about what you do to get this type of fruit. You want your fruit to be bigger. You want a fruit with larger beans because that's how you'll get more mass to make your chocolate."
That's the business Kersha has become wrapped in now – chocolate. She's joined Kerry Ann in the chocolate-making workshop and is learning the craft. The CRC wouldn't be Trinidad and Tobago's authority on cocoa and chocolate if they can't make said cocoa and chocolate, after all. Although she admits to not having much of a sweet tooth, Kersha is enjoying her experience thoroughly. She particularly enjoys the manipulation of the bean-to-bar process that is sometimes needed to bring out the best flavour in the cocoa bean.
"The chocolate-making process so dynamic for different people," she says. The process remains the same, but "you can manipulate your beans to get the best results." For example, if a farmer or chocolatier thinks that their batch of beans may not be particularly flavourful, they can "manipulate the process and still get a good flavour." Kerry Ann adds that conditions change, whether they be environmental, mechanical, or any other of a number of factors, so, "you have to be ready to fix to suit and make the most out of the bean, in terms of flavour, because you want to show [it] off."
For Kersha, that's the exciting part about the cocoa and chocolate industry. Someone can have beans that have a naturally fruity flavour, another's can have floral characteristics and still another's can be nutty. "There's one way to make chocolate, yet you can get all of these great things coming out of this one procedure and … you stand out."
In addition to helping local cocoa farmers and chocolatiers nurture their beans to their fullest potential, the Food Tech team teaches them to make chocolate through its Beginners Chocolate Making Training – for which Saila, Kerry Ann and Kersha are all facilitators – as well as its soon-to-come Advanced Chocolate Making Training. The entire team recently underwent the Advanced Chocolate Making Training, led by French chef and chocolatier, Régis Bouet. It was a train-the-trainers endeavour, in which they learnt the fancier side of chocolate making and can now create beautiful chocolate and cocoa products – think bonbons, ganache, truffles, mousse – with our local fine flavour cocoa beans taken straight from the trees at the Genebank.
They're not keeping all that decadence to themselves, however. To maintain and enhance their newly-learnt skills, and to show the public the wealth that lies within our soil, and how the Centre is uncovering it, the Food Tech team started Fridays at CRC.
Most Trinbagonians don't appreciate the flavour of dark and fine chocolate, however. Saila, who also joins Kerry Ann and Kersha in the section's product development endeavours, admits that, before working at the CRC, "I was a Cadbury's [and] Hershey's Pot of Gold person … The dark I knew was the Hershey's Special Dark." But, when she began working at the Centre and tasted its 70 per cent dark chocolate bar with its natural tropical fruity flavour, she realised what dark chocolate is supposed to taste like. Now, Saila is an ambassador for local cocoa and chocolate and is enjoying learning about the cocoa culture and industries in other countries. She recalls a trip to St. Lucia where she noticed roadside vendors selling the island's local cocoa tea alongside their other wares. "You would not see anybody on the Maracas lookout selling local cocoa," she points out. "We're still very much a Cadbury's population [but] ... people need to get out of the mind frame that everything from the west is better because Trinidad has one thing that is the best – our cocoa," she says.
Kerry Ann agrees, sharing her own tale of under-appreciated-chocolate woe, while attempting to share free samples of CRC's chocolate bars to passers-by at a trade show. "Some persons turned it down … Then every person that tasted it, and I was there interacting with hundreds of people, would say, 'oh this is actually good,' or, 'this is actually not bad.'" Kerry Ann was struck by the fact that rather than simply pay a compliment, people were surprised that the chocolate was good. It's sad, she says, but "local is associated with being inferior."
"It's a local ignorance," Kersha says. People have been exposed to a certain quality of cocoa and chocolate all their lives and "that was good enough" for them. They don't appreciate dark chocolate because they haven't developed the palate for it. That's what Friday's at CRC is working to change. It's the Centre's way of "trying to help persons open that part of their minds and expand their palates." Armed with a tray-full of fine flavour chocolate (or brownies!) and mugs filled with steaming cocoa tea, CRC is making a good effort.