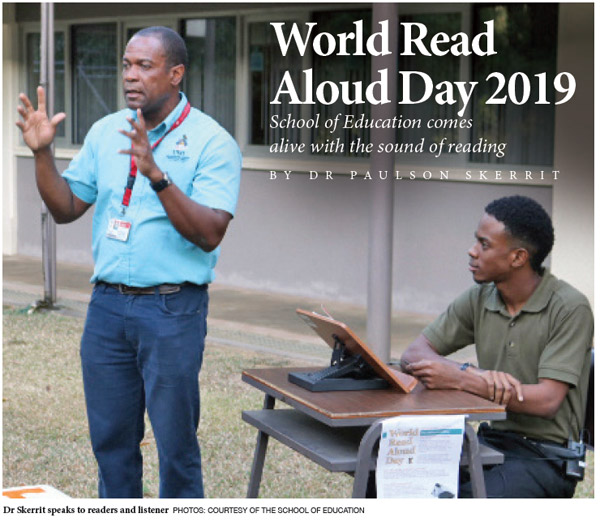 Mem Fox, a famous author of children's books said, "the fire of literacy is created by the emotional sparks between a child, a book, and the person reading. It isn't achieved by the book alone, nor by the child alone, nor by the adult who is reading aloud – it's the relationship winding between all three, bringing them together in easy harmony." Indeed, this holds true for children and adults alike.
Really, for many people, experiencing a read aloud is a powerful literacy event – hence "World Read Aloud Day".
Created by LitWorld, a nonprofit organisation committed to encouraging self-empowerment and changes in communities through literacy, World Read Aloud Day is celebrated in 173 countries around the globe. Beginning on February 1, the faculty and students at the School of Education (SOE), St Augustine Campus engaged in different "read alouds" in commemoration of the day.
Reading aloud provides significant benefits to any audience and it is especially beneficial to emergent, developing and struggling readers. The sheer joy of being read to is known to be the experience of audiences ranging from unborn children to professionals with the highest academic qualification.
When a text is read aloud successfully, it serves as a model of fluent reading that also supports visualisation and comprehension. Reading aloud is animated with aspects of prosody such as modulation of pace, pitch and power while matching the expression of the characters and emotions of the text. Readers also pay careful attention to conveying any dialogue so that the individual character traits are identified.
The Read Aloud sessions took place in and around the SOE compound. Several lecturers jumped at the invitation to have their students join. The audience of students, faculty and staff, thoroughly enjoyed the event. Lecturers shared that they learned a great deal from the experience.
The students of the Developing Literacy Abilities course also held several read alouds using various genres. One student read a piece that she wrote herself. Other lecturers and their students, for example in the Diploma in Education programme, were very creative in selecting various genres and mediums for their read alouds. Ms Murella Sambucharan-Mohammed's foreign language class held read alouds in Spanish, while projecting the English on the board. The reading was accompanied with music.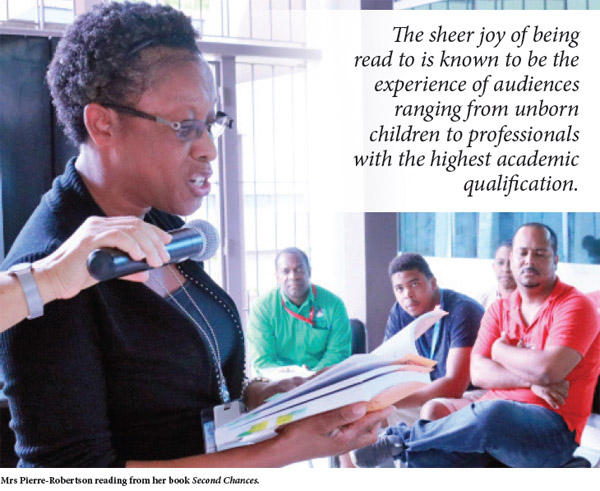 Lecturers in the Teaching of Mathematics Dr Sharon Jaggernauth, Mrs Nalini Ramsawak and Dr Zhanna Dedovets discussed the read aloud as an instructional strategy in their classes. Lecturer in the Teaching of English Dr Krishna Seunarinesingh's class employed read alouds with a poem to engage students with its key concepts.
During the lunch period, Dr Simone Primus, Librarian at the SOE, and Mrs Petra Pierre-Robertson, Documentalist, also set up a read aloud session in front of the library. Pierre-Robertson read from her book, Second Chances that dealt with the abuse of women. The interactive nature of the read aloud stimulated intense discussion among the audience.
Good teachers are relentless in addressing literacy in schools. Read alouds offer teachers a very motivating way to teach many things at once – to arouse interest in reading specific texts; promote wide reading; model fluency (particularly the critical aspect of prosody); provide vicarious experiences for students; and to make connections between narrative and content. All are encouraged to model this very important activity in lectures and tutorials and urge their students to do the same.
The SOE's celebration of World Read Aloud Day certainly achieved its designated purpose in empowering both lecturers and students to engage in motivating read alouds for advancing literacy and teaching in-service teachers literacy strategies.
---
Dr Paulson Skerrit is a Lecturer in Reading Education and Literacy Studies with the School of Education at UWI St Augustine.