August 2015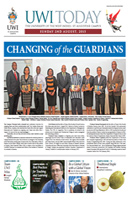 Issue Home >>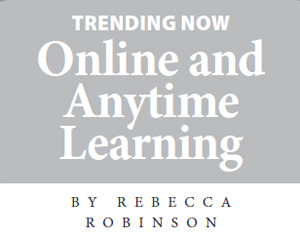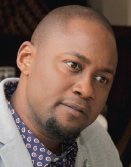 "Online teaching calls for more rigorous structured teaching plans, preparatory training and course content that one can imagine. Many people start and stop as it is different from face-to-face course delivery and a range of other skills have to be honed as an e-lecturer." This is the informed perspective of Dr Andrew Campbell, e-lecturer at The UWI's Open Campus, Seneca College of Applied Arts and Technology and Durham College - Toronto District School Board, who presented at the Best Practice in Higher Education conference that took place at The UWI, St Augustine late June. Naturally, his presentation at the conference examined the present methods being employed by Open Campus online instructors to engage online learners thereby arriving at a set of best practices in the growing course delivery method.
Today, more and more traditional post-secondary institutions are taking the classroom online, offering their students other means of engagement and opening more full-time study opportunities to a more diverse population. Acquiring and preparing educators to facilitate online learning has its own set of challenges, special needs, philosophies and a growing list of what are the best practices in the area. The transition from face-to-face teaching to online facilitation requires special skills and an additional lens through which most traditional classroom educators view students, student engagement, assessment, and evaluation, based on their own philosophy of teaching and initial teacher preparation programme.
It requires for some face-to-face educators, additional skills; and for others, a whole different approach. Training is necessary not just for the technical areas, but also in the areas of online communication, online social presence, and online assessment. The pedagogy of online teaching according to Dr Campbell includes, "making students accountable for their own learning which I fashion according to the SQ3R approach (Survey, Question, Read, Recite and Review)."
He said that online course delivery is about 40% content with the rest of delivery being about search and sharing techniques, teach-back or learning via a flipped classroom scenario where students are the ones in charge of presenting on assigned topics. He added that these are the techniques that drive online learning, growing critical thinking skills.
When asked about the peculiarities of the West Indian students as compared to those others he also teaches, Dr Campbell said that the flipped classroom scenarios are usually the ones that The UWI students take some time to accept as they are still looking for the lecturer who is the keeper of knowledge, the sage figure. He also noted with a twisted laugh that only for The UWI students and across several islands at a time, the internet goes down right in time for the delivery of a major paper!
Apart from these two characteristics, online teaching and learning can be as intense and rewarding as good face-to-face sessions. Dr Campbell wrapped his presentation with the advice that as this trend grows, all university lecturers should get appropriately trained.