August 2016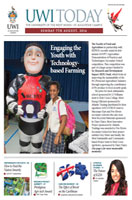 Issue Home >>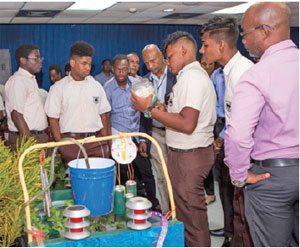 The Faculty of Food and Agriculture in partnership with REPSOL recently ended its first annual ADOPT Secondary School competition. The ADOPT (Agriculture Demonstration of Practices and Technologies) Competition ran for four months and was open to all forms. This competition was part of a larger project funded by the Research and Development Impact (RDI) Fund, which looks at improving the sustainability of the PA (Protected Agriculture) Industry through improving the contribution of PA produce to food security goals.
Out of the eight teams which advanced to the final stage of this three staged competition, Holy Cross college team "Agriholics" won, followed by El Dorado East team "Tier Gardens" and third place went to Holy Cross college team "Off Road Farming". Special prizes were also awarded in the competition with Mayaro Secondary winning the coveted Agribusiness/Innovation Prize of a hydroponic system for their school sponsored by REPSOL to be constructed under the young growers programme and would also have their projects constructed into working models by the Engineering Department at The UWI St. Augustine. (Other prizes are mentioned in the cover story)
One of the goals of ADOPT is to implement non-traditional systems for small-scale farming, aimed at strengthening local food security and adapting traditional open field farming methods in the face of variations in climate. The project aims at blending PA shade house technology with a combination of hydroponics, organoponics, hybridponics, aquaponics, aeroponics, vermiponics and barrel-ponics growing systems and LED light technology for sustainable food production using low-cost or recyclable materials. The prospect is to confront barriers of regional fragmentation and vulnerability with regional collaborations that transfer knowledge, adapt it to community-based needs, and improve food security and social resilience at the local level.
The competition will re-open again in September 2016 and interested schools can contact the Department of Food Production at food.production@sta.uwi.edu or call 662-2002 Ext. 82090 or 84055 for further information.