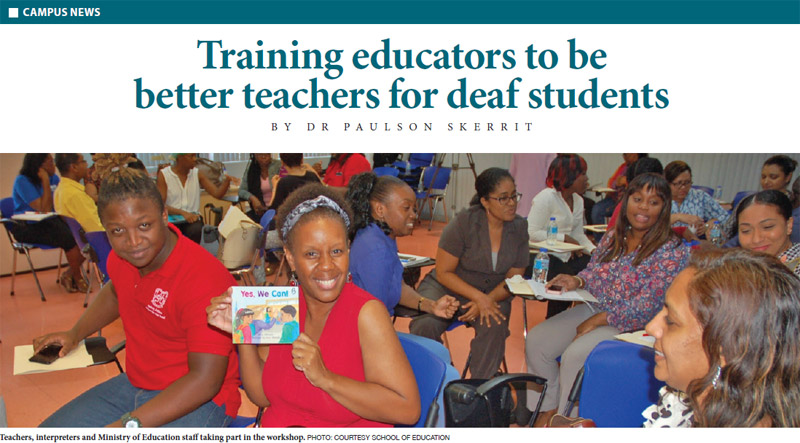 English is not an easy language to learn. Imagine having to learn it if you are deaf or hard of hearing (DHH). It's a challenge for DHH students and for the educators with the job to teach them.
In July 2019, The UWI School of Education (SoE) Outreach Unit, partnering with the Counselling Department of Gallaudet University in the US, held the 2019 Professional Development Workshop for teachers, interpreters and Student Support Staff of Trinidad and Tobago's Ministry of Education. The workshop trained them in the Bedrock Bilingual Literacy Programme for DHH learners, as well as strategies for their social and emotional needs. It was held at SoE on the St Augustine Campus.
SoE lecturer Dr Paulson Skerrit and Ms Shannon Winters, a teacher at the Arkansas School for the Deaf, facilitated the sessions on using the Bedrock curriculum. Dr Danielle Thompson-Ochoa, professor at Gallaudet University, held sessions on the socio-emotional needs of DHH students.
Apart from the lectures, discussions and demonstrations, the workshop included presentations by qualified local DHH teachers.
The Ministry staff benefitted from insights into the unique approaches needed to teach DHH students and the specific considerations when it comes to assessment and concessions if equity is to be achieved. Participants willingly gave up part of their lunch breaks and even stayed on after the scheduled closing time each day to ask questions and discuss implementing the approaches that were introduced. They rated the workshop as "practical", "high quality", "intensive" and worth the sacrifices needed to participate. What made the workshop especially appealing for participants was that the information was rooted in evidence-based research.
The Trinidad and Tobago Association for the Hearing Impaired (TTAHI) funded the cost of providing high quality interpreting (sign to voice and voice to sign) during the workshop and the interpreting service was outsourced to Caribbean Sign Language Centre (CSLC).
The 2019 Professional Development Workshop was coordinated through the SoE Outreach Unit managed by Mr Cipriani Davis with support from Ms D'Izraiel Billy.
---
Dr. Paulson Skerrit is Lecturer in Reading Education at The UWI St Augustine School of Education.