December 2008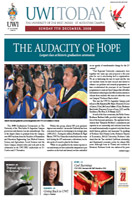 Issue Home >>
Jennifer Joseph Appointed Campus Librarian
"I want the library to be an inviting place that lends itself to discourse and discussion," explained recently appointed St Augustine Campus Librarian, Ms. Jennifer Joseph. When asked about the challenges facing the Main Library over the years, with the growth in the student population, she spoke of capitalizing on the technology to make the information more accessible to the Campus community. There will also be a focus on the Master Plan for the Campus, ensuring that the Library is a Central Service with qualified professionals ready to guide students and staff in accessing important information.

"Because of the space limitations, we are looking to do an internal re-organisation – to provide more virtual, on-line services," she added.

Having joined the UWI in 1998 as a Librarian (3), she was promoted to Deputy Campus Librarian two years later and worked closely with former University Librarian, Professor Margaret Rouse-Jones. What about the legacy left by her predecessor, Vice chancellor Award for Excellence awardee, Professor Rouse Jones?

"She's a hard act to follow, but she certainly provided me with a lot of guidance - big shoes to fill, but I will certainly build on all that has gone before," Ms Jones concluded.