December 2014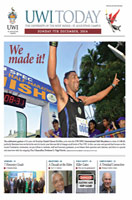 Issue Home >>

Citation: McCarthy Linda Sandy-Lewis, Degree of Doctor of Letters (DLitt)
Chancellor, recently, a musician relayed a true story. He was in Manhattan in 1996 socialising with a friend and a couple of young ladies. The subject of nationality arose and the young ladies rendered a verse of a German folk song. Without thinking, he belted out:
"Fire, Fire, in yuh wire, sister!
Aie a yai, Oi yo yoi!
Fire, Fire!
Ven aca, papito!
Dame mucho agua!
Oi yo yoi!"
Before he got to the second line, without cue or rehearsal, his friend had chimed in and others stopped what they were doing to listen. This is not a story on how to win friends and influence people. Only years later in reflecting, the musician reckoned the folk song was a challenge and was proud he could respond in kind – that in no small measure, Calypso could serve as a practical source of national and regional pride. It's not the kind of thing that makes headlines but it's a visceral example of one of the many ways culture and cultural icons bolster a people.
The ability to deliver a smash hit of a party song is one aspect of the subtly textured individual we honour today. Calypso Rose is McCartha Linda Sandy-Lewis. Born in Bethel, Tobago, of a Baptist Minister and his wife, she began composing and singing her own calypsoes at 15. Early on she performed in Grenada, St. Vincent, Barbados, Antigua, St. Thomas and the US Virgin Islands. At 24 she was already a professional calypsonian. Like all genuine trailblazers she had to cut her own path and overcome many obstacles.
In 2014, it's easy to forget that Trinidad and Tobago's Calypso Monarch Competition had to be changed from being the Calypso King Competition BECAUSE of Calypso Rose's command of the art form – she was the one kicking in the door. The classic "Fire in Me Wire" was unleashed in 1966 and was so nice it was done twice – also featuring in the 1967 Carnival. From 1972 to 1976, she won the Calypso Queen Title. In 1977 she became the first female to win the Road March title with "Tempo." It would be another 22 years before another female calypsonian would take that title. In 1978 she won the Calypso King Competition which precipitated the name change in her honour. She has continued to perform worldwide, having composed over 800 songs and recorded over 20 albums. Her versatility and brilliance can be appreciated in her diverse themes, which run the spectrum from social and political commentary to party music and also includes gospel and inspirational songs.
She is the recipient of many cultural and achievement awards within the Caribbean and beyond and has been honored by many organisations: the National Arts Council of Belize, the Grenada Broadcasting Network, the Sons and Daughters of Jamaica Incorporated, the Dheeraj Cultural Foundation, and the Smithsonian Institute in Washington to name a few. And she has been given the title of UNICEF Goodwill Ambassador for former child soldiers.
She was awarded the Keys to the Cities of Arima, Port of Spain, Ontario, Canada and Lauderdale Lakes, Florida.
Her life and work have featured in films including 1979's "Bacchanal Time," 1990's "Women in Calypso," "Calypso Dreams" from 2004 and the critically acclaimed 2011 documentary, "Calypso Rose – Lioness of the Jungle." There is an elementary school in Liberia named in her honour.
Calypso Rose is the undisputed Calypso Queen of the World. She is well known as a witty composer, a charismatic performer, a living legend and a cultural ambassador. But she is also a Mighty Warrior, having battled a stuttering speech disorder, physical abuse, gender discrimination, heart attacks and cancer to name some of the opponents she has left on the mat. For a University, recognition and preservation of society's cultural history is one of its most basic functions. This is even more imperative in small societies in which creativity abounds and where culture is appreciated as a platform for development.
Chancellor, I present McCartha Linda Sandy-Lewis, Calypso Rose, and ask that by the authority vested in you by the Senate and Council of The University of the West Indies, you confer on her the degree of Doctor of Letters, honoris causa.