The boy who wouldn't take basket
"Going through the degree programme has been challenging; sometimes because supporting technology was not available, sometimes because people could not grasp his differently nuanced needs."
By Vaneisa Baksh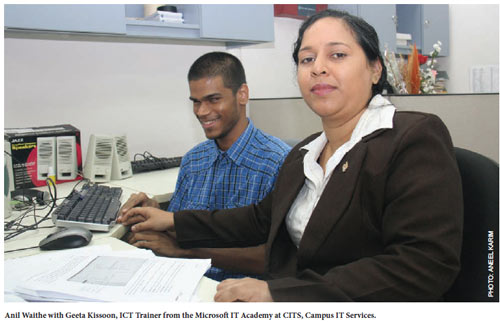 Heft a can of pigeon peas. It weighs just about a pound. That's how heavy Anil Waithe was when he was born at six months and two weeks. He was also sightless. Back in 1986, the prognosis was not good (yes, that's more than 25 years ago), and his mother, Sandra was not offered much hope for his survival.
But survive he did, with such an indomitable spirit that even as you marvel at it, your instinct is to reach out and help clear his way. Anil is now in his final year at The UWI where he is doing a BSc in Computer Science; just one Math and one Foundation course separate him from the Degree.
He had successfully completed one of the co-curricular courses (COCR1028) in Outlook and staff members at the Microsoft IT Academy were so proud of his success that they wanted to share the good news. But the good news was not only that he had done it within a month, or that he was pursuing another COCR; it was also how he was reshaping the way for visually impaired people.
Having difficulty with the Math he created a programme to help the visually impaired and he is currently working on an audio CD which will be a tutorial for Office. It is all about accessibility to him, providing ways for the visually impaired to gain greater access to opportunity and possibilities.
In a sense, many of his choices have been based on the overarching desire to improve the lot of persons with disabilities. He chose his field of study because, "I wanted to prove that visually impaired people can do it. I wanted to open the way for other students. With my experience I can point out accessibility issues."
For instance, when he began a Programming course, the examination time he was allotted was still not enough (20 minutes extra per hour), and he was never able to complete them. Through him, the time has been extended to 10 additional minutes per hour. He has been instrumental in bringing issues like these to the attention of bodies like ASDLU [Academic Support/Disabilities Liaison Unit] so that the system is adjusted.
Going through the degree programme has been challenging; sometimes because supporting technology was not available, sometimes because people could not grasp his differently nuanced needs. The JAWS screen reading software that had been obtained after great effort actually conked out on him during an examination. Anil didn't alert the invigilator and as he was not allowed to have someone with him, he couldn't finish. The next time he was allowed to have Geeta Kissoon, an ICT Trainer from the Microsoft IT Academy, in the examination room and he passed.
As Anil talks about his Campus experiences and his ambitions, Geeta sits beside him, bantering and reminding him of details he might have overlooked. She comes across more like a big sister than a tutor, and he evidently trusts her.
He believes that each obstacle can be a platform from which one can either dive or soar, and he chooses to soar. So it takes Geeta's interjections to help me realize what it really means when he says something innocuous like: "Sometimes JAWS doesn't behave."
The challenges were more complicated than he allows, and yet he selected this particular degree programme because he had something to prove.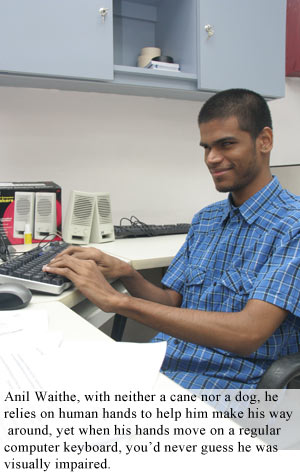 During the six months he spent at the School for the Blind in his early years, he was made to understand that the only livelihood he could aspire to was in basketry (a craft that with his long, elegant fingers and slender wrists, he might have mastered with ease). But to be told that that was all his life should contain filled him with outrage. He might not be able to see but he could think, and he was determined not to be relegated to a lifetime of mechanical functions.
So Anil began to walk a different road. A solitary one. He studied hard.
His ability to gather and retain information very quickly is remarkable. I ask him why he thinks that is so and he suggests he might have a photographic memory.
"I pay more attention to things than sighted people," he said.
"In school I had a tape recorder, people read for me. I can memorize a menu [on a computer or phone] and send texts and emails," he tells me, adding, "I play video games too." He even watches wrestling on TV, says Geeta. He also founded an online radio station, CCV Radio.
As a reward for getting into Hillview College in 2000, he was given a computer by the Torres Foundation for the Blind (a non-profit organization). The computer was a refurbished one [The Foundation accepts donations of computers and adds "assistive technology" before passing them on] and this one had seen better days.
"I had to use a nail to turn it on," he remembers, recalling how he got tired of the trips to technicians because "sighted people would not take certain things into consideration when repairing." He took matters in his own hands.
"I can build a computer by myself from scratch," he says. "I learned to reinstall Windows by listening to the spring of the CD-ROM." Geeta interjects: "When he was doing it, I thought he was sighted that day!"
Anil grins, a rare moment when his head is not slightly bent.
"I made an unattended installation of Windows. I wrote a backscript and that contains the necessary settings to get Windows running."
His mother came to meet him just as we were wrapping up and I told her I had enjoyed talking to him, and that I found him to be an intelligent young man. "He got nine subjects at Hillview College," she says, her eyes glistening, "but it was rough there." Students were not always kind. One bit him hard for showing them up at exams. She tells the story of his birth, how she was a single mother, looking after her son and her 89-year-old mother and making do on his disability grant which is a paltry $1300 a month.
"I would do anything for my child," she said.
Given Anil's sunny air, the way his mind seemed wholly focused on positive things, it had not occurred to me that there were other hardships on his plate. Had it not been for the input of his mother and Geeta, Anil would have glossed over the tribulations. I suppose the indomitable spirit would not be overwhelmed. His mind is fixed on a future of equal access. He knows he is going to wrap up the degree this year, and then he wants to do a master's degree.
"I haven't decided on what yet, but it would have to be in the computing area because I want to help people. At the end of the day, knowledge is only useful if you share it." It is his goal in life to develop some kind of training centre where he can help people with disabilities to have access to the technologies and opportunities that could open their minds.
It is also his wish that by doing things that people did not imagine possible for the visually impaired he would open their eyes.