February 2016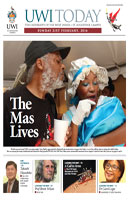 Issue Home >>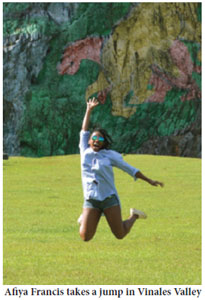 With our plane tickets in hand and sleep still clenching our bodies, all twelve staffers of The UWI St. Augustine boarded an early morning flight to Havana, Cuba at the crack of the new year, 2 January 2016. Our study tour would take us to La Habana, Matanzas, and Pinar Del Rio provinces.
The group met twice prior to our departure in preparation for the trip and although we were discussing logistics, visas and travel insurance, we couldn't contain our excitement. With the recent change in diplomatic relations between the USA and Cuba, thousands of tourists are flocking to Cuban shores to get a taste of "untouched" Havana and environs before a fundamental shift takes place. So we considered ourselves lucky that we too were able to enjoy Cuba sans American franchises.
We arrived a day after Liberation day, a public holiday in Cuba which marks the end of Batista's dictatorship. Buildings on every street corner were adorned with Cuban flags, a sure sign of true Cuban patriotism. Cubans are warm, strong people who are proud of their national identity and will school you on the teachings of José Marti in an instant. We encountered many Cubans who expressed how they felt about the possible changes to come. I noticed that the answers were based on the age of the person. Cubans age 30 and older said they were concerned about the US taking over Cuba in a way that would water down the culture and ruin the Cuban landscape. However, they were excited about the business opportunities and the economic boost that could possibly help the country. Younger Cubans were excited about the thought of Mc Donald's and other American fast food joints as well as brand name clothing. All that they may have heard on TV or seen on the internet. As outsiders, many of us felt differently, we know damaging consumerism can be over a country but understand the steps the Cuba needs to take in order to progress.
In February 2015, Campus Principal, Professor Clement Sankat and Sharan Singh, director of the campus' Office of Institutional Advancement and Internationalization visited various tertiary level institutions in Havana to enhance the relationship between Cuba and Trinidad and Tobago. In November, the University hosted a delegation of Cuban scholars during Cuba week, a week dedicated to conferences and lectures focusing on new opportunities, intercultural communication and economic environment of the Cuban Market. The year 2015 can be dubbed as the year of Cuba, filled with cultural exchanges, collaborations and relationship building. Our trip couldn't have happened at a better time.
Throughout the nine days, we explored the towering Spanish and Baroque style buildings of old Havana, ate fresh vegetables from a cooperative organic farm, learned four different styles of Cuban dance, and were treated to tea and a presentation by members of the Caribbean Association of Cuba. Dare I not mention, our bus breaking down on the high way, as part of "The Cuban experience."
According to Director of the campus' Office of Institutional Advancement and Internationalization, Sharan Singh, "UWI Discovers is part of The UWI's strategic efforts towards internationalization: the development of education, research, and community service for global impact. Through cultural immersion and academic guidance, the series explores emerging markets of the world to foster similar critical thinking, technological innovation, and cultural preservation in Caribbean nationals." The group was hosted by the Centre of Jose Martís Studies, led by Cuban academic coordinator, Dr Jacqueline LaGuardia Martinez and UWI study tour coordinator, Afiya Francis. They attended lectures at the Centre followed by tours which covered several topics including Cuban art and culture, politics, healthcare and Cuba's diplomatic relations.
One of the participants, UWI student, Solange Roberts-Clarke said that the opportunity to get first-hand knowledge about Cuban society, history, culture and much more while experiencing Cuba was amazing. She left with an overall deeper respect and love for the country as well as a different perspective on life, people, history, culture of Cuba and the world.
We can all agree with Solange. We left with an appreciation for the charming island and our own home country. We came back with memories and a stomach bug. But overall, Cuba has changed our thoughts on over consumption and waste, and what it means to have pride in your country.
This year, the DISCOVER series will travel to South Africa to learn about the history and culture of the country and explore its wine regions, cosmopolitan cities and wildlife game reserves. This follows trips to India in 2012 and 2013, and Brazil in 2013. At its core, the series provides the opportunity to explore the most dynamic and increasingly influential countries in the world. The tours are open to students, staff and faculty of The UWI (all campuses) and of all regional higher education institutions. Alumni of The UWI are also welcome to apply as well as members of the public who are active in fields related to the study tour theme.

For further information, contact Afiya Francis at 662-2002 ext. 84280, 224-3707 or email Afiya.Francis@sta.uwi.edu.