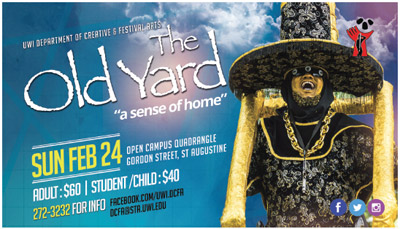 Ten years ago, traditional mas' came alive at UWI St Augustine. The old costumes, characters and performances from the dawn of Carnival, many of which had become obscure over the long years, were given new life.
Ten years on, the Department of Creative and Festival Arts' (DCFA) Old Yard is not only a beloved event for the Carnival season but also an important teaching tool for the University, and a living museum for the preservation of masquerade.
On February 24 2019, DCFA will celebrate Old Yard's 10th anniversary with an extra special edition of the Carnival fair entitled, "A Sense of Home".
"We see this as something very special," says Dr Jo-anne Tull, Lecturer and Coordinator of Carnival Studies at DCFA, and Project Director of Old Yard. "We will really want to give a showing of ourselves."
For ten years Dr Tull and her team have done just that, constantly expanding and improving the traditional Carnival event. In its original form, the Carnival fair that would become Old Yard was created by Rawle Gibbons, Founding Director of DCFA. Called "Viey La Cou" (French for Old Yard), it was held in Port of Spain. When UWI agreed to take over Old Yard it moved to DCFA's Agostini Street headquarters. Last year was the event's first instalment at DCFA's new Gordon Street location which is shared with UWI Open Campus.
It was a success, attracting new participants and spectators. And yes, Old Yard attendees often become participants. The "Yard" is an immersive experience, drawing people into a fantasy setting of Trinidad's Carnival past. Patrons can dance, play and sing along, with the Carnival characters, some spooky, others flirty, many supernaturally colourful and strange.
They can also enjoy performances from Trinidad and Tobago and the region's greatest exponents of traditional masquerade - Midnight Robber, Moko Jumbie, Pierrot Grenade, and Carnival forms from other islands and territories.
Most inspiring of all is that Old Yard is a teaching tool for DCFA's students in Festival Management, Production, Performance, Technical Theatre and even Visual Arts. Students run the show from behind the metaphorical curtain and make up much of the talent on the "stage" (the entire yard is the stage).
"Old Yard allows us to show the nation and the region how we view the importance of traditional masquerade," says Dr Tull. "It's DCFA's way of making a contribution to Carnival."
The Old Yard Programme Director says she wants the 10th instalment to also highlight their relationship with stakeholders such as the National Carnival Commission (NCC) and the Ministry of Community Development, Culture and the Arts. These bodies have over the years provided financial and infrastructural support for the fair, as well as included it in their event calendars.
Asked to ponder the legacy of cultural preservation, education and entertainment that she and her team have created over the last ten years, Dr Tull takes a moment to think, "That's an interesting question. I don't really think about legacy. I think about tomorrow. I'm thinking about the future of Old Yard".
"A Sense of Home" takes place from 1:00pm on Sunday, February 24 at DCFA on Gordon Street in St Augustine. (Joel Henry)