February 2019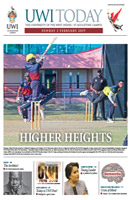 Issue Home >>

Festival of Seminars
In February, SALISES is turning its focus to the latest in research. From February 4th to 6th they will be holding their 2nd annual "Research Days". Dubbed a "festival of seminars", the three-day event highlights the research being carried out at the institute from graduate students, staff and other stakeholders.
"Anyone who is interested in the kind of research taking place at SALISES can attend," says Dr Ghany.
With a branch at all three main UWI campuses (St Augustine, Cave Hill and Mona), SALISES is focused on training and research that can contribute to the economic and social development of small and emerging states and regions such as the Caribbean.