Adopt-A-Student Programme: A little goes a long way

By Omega Francis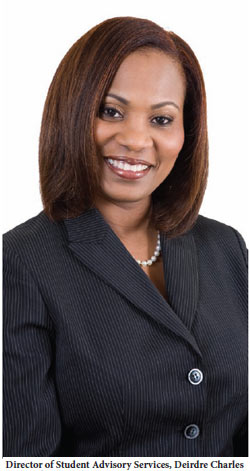 Have you ever wondered if there were any more good Samaritans out there? Have you ever wondered if there is anyone who would lend a helping hand in your time of need? Well, six years ago these issues struck the Director of Student Advisory Services, Deirdre Charles quite forcefully as she observed student life. She was so moved by what she saw that she implored her UWI colleagues to make monthly contributions to help students in need, and the Adopt-a-Student fund was formed.
It started off with 32 staff members, who heeded the call and contributed to the fund in July 2005; it has now grown to over 100 staff members making monthly contributions. Contributions range from $5 to $500 per month and are made through salary deductions.
The Adopt-a-Student fund encourages both Administrative and Technical Service staff and Academic staff members to make monthly contributions to help students. Any money donated is disbursed to students who are experiencing financial difficulty when required. Students apply to be recipients of the programme and are assessed by Student Advisory Services for eligibility.
Ms. Charles is responsible for Student Advisory Services, a Department that provides a group of essential support services for an average of 16,000 students. Recognising the sometimes unseen hardships, she developed this fund to help students in financial need, some of whom encounter situations where they are unable to afford the barest necessities. Through her campaigning, she was able to get help.
"There have been many companies who have contributed to the Adopt-A-Student Programme and two have been continuous with their support: The Rotary Club of St. Augustine and The UWI Development & Endowment Fund (D&E Fund). The Rotary Club has made significant contributions totaling approximately $40,000 to date. Apart from the Club making donations, individual members such as Mr. Ajay Khandelwal and Mr. Pradeep Kumar, amongst others, have made and continue to make personal contributions to the programme. We sincerely appreciate and value the Club and these individuals for their invaluable assistance to our students. All of this was possible in part to former Deputy Principal Prof. Gurmohan Kochhar. Prof. Kochhar was instrumental in making the initial link by introducing me to the Rotary Club where I was allowed to make a presentation about Adopt-A-Student. Similarly, the UWI D&E Fund has also been supportive and has contributed approximately $35,000 to the programme over the years," she said.
Many students have been beneficiaries of the fund and have expressed appreciation for the financial assistance.
"The programme helped me and my family as well. My father's salary is small, so I was able to pay for items which I would not be able to afford otherwise," said one student.
"I have benefited from the 'Adopt-A-Student' programme tremendously, so much that without it I would have been unable to attend school. My financial position is not very secure. I strongly support this programme and I am very grateful," another enthused.
Student Advisory Services influences all aspects of students' lives, enabling students to achieve maximum benefit from their university experience. They provide a range of services and programmes, which include accommodation, careers, placement, employment, orientation and financial assistance.
"One of the many success stories regarding Adopt-A-Student is a female student who was accepted into the Faculty of Engineering back in 2005. She was excited yet worried about her acceptance as she lacked the financial resources to start at UWI. However, after being placed on the programme for her entire study period she was able to successfully complete her studies and graduated with honours."
Contributing to the Adopt-a-Student fund is easy.
(For staff) Fill out a salary deduction form at the Student Advisory Services office or online.
Decide on the contribution to be made.
Change a life.
If you wish to donate to the ADOPT-A-STUDENT fund, you can contribute at the University Bursary at the Administration Building (Account # 1300-226242).