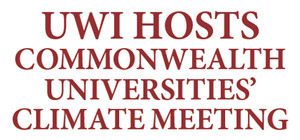 From July 5 to 8, 2019,The UWI Regional Headquarters in Jamaica hosted the first-ever meeting of universities across the Commonwealth to collaborate on climate challenges and resilience in their countries.
The Association of Commonwealth Universities (ACU), made up of an estimated 500 institutions from over 50 countries, convened the first meeting of its Commonwealth Climate Resilience Network (CCRN) at UWI's Regional HQ. The meeting provided a structured opportunity to share good practices and explore potential for collaboration among universities.
On July 5, Coordinator of The UWI's Institute for Sustainable Development (ISD) and Director of the Centre for Environmental Management (CEM), Dr David Smith, along with disaster resilience consultant Mr Jeremy Collymore, delivered the opening remarks. The agenda over the four days included evaluation of CCRN's progress to date.
The meeting also included field visits to Discovery Bay Marine and Field Laboratory as well as Blue Mountains. On July 8, Vice-Chancellor of The UWI and President of the ACU, Professor Sir Hilary Beckles delivered the feature address, which was followed by closing hearings on the CCRN's programme of future activities.
The UWI's hosting of this meeting is a demonstration of its commitment to climate action as part of its Triple A Strategy (Strategic Plan 2017-2022), which includes the promotion of greater activism and public advocacy, as well as increasing the impact of its research and innovation. Earlier this year, the International Association of Universities (IAU) selected The UWI as its global leader in the mobilisation of research and advocacy for the achievement of a climate-smart world. The IAU designated this charge in recognition of the University's decades of outstanding research on climate change and sustainable development.
This critical collaboration on climate resilience supports the UN's Sustainable Goal on climate action, was reviewed in New York on July 10 through 12 at the High-Level Political Forum 2019 under the auspices of the UN Economic and Social Council (ECOSOC). The UWI was represented in a number of events during the Forum.