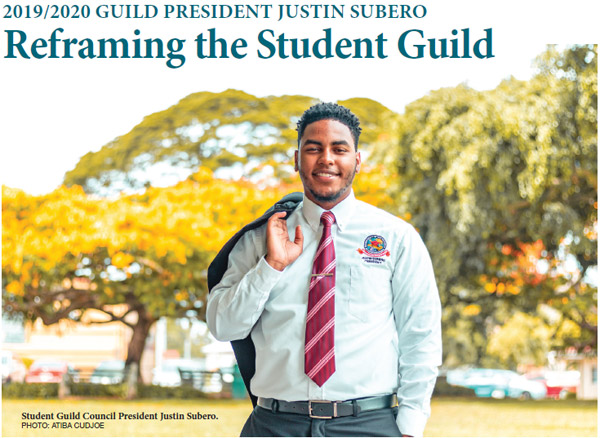 "Take yourself seriously,' said Ewart Williams, former Governor of the Central Bank, Chairman of The UWI St Augustine Campus Council, and well-known and regarded citizen of Trinidad and Tobago.
He was responding to a question about what advice he would give today's UWI students. Meeting Justin Subero, the new President of UWI St Augustine's Guild of Students Council, it seems clear he's a believer in the Williams approach.
Not that he is overly stern or serious - on the contrary, Justin is an amiable young man. But, when he speaks about the vision that he and his team have for the Guild and the entirety of the student body, it's clear that he is very serious about the responsibilities of leadership.
"I want students to understand the importance of the Guild and the work that we do," he says. "We represent them at very high-level committees and boards."
They are the official representatives of the student body to UWI and sit on the university's planning, finance, and academic committees and attend regional meetings on behalf of the students.
"Many students don't realise the impact that Student Government has on a university. Our job is to change the culture so that they are more in tune with the entire process."
The Guild of Students is responsible for a host of campus activities and events. Campus Carnival, Caribbean Integration Week and inter-faculty games, for example, all aim to enrich students and campus life.
Subero and his team won the election in March 2019, succeeding the Council headed by Darrion Narine. Justin, who was the Secretary of that Council, notes that there is continuity between the strategic plan of his predecessor and the current plan.
He has his own goals as President: "my plan is to bring back a proper framework and structure for the Guild. I think that has been lacking for the last couple years."
As part of this agenda the new Council (25 members including the Executive, hall chairpersons, faculty representatives and special committee chairs) has reinstated the position of Guild Librarian. The goal is to foster accountability in the Guild.
The son of Sheldon Subero, a former senior officer in the Trinidad and Tobago Regiment, Justin attributes his discipline and desire to make a positive contribution to his father. He was also influenced by his older brother Darien, a UWI graduate who was also a member of a Guild Council.
He believes his greatest attribute is "consistency" and the young leader will need it. Entering his final year in the rigorous computer science programme, he now has to deal with the added labours and responsibilities of Guild President – a president with an ambitious agenda.
"It's tough," he smiles. "But I have an amazing team…. And I'm somebody that likes a challenge."
Serious indeed.