Dare to Be! : Making First Year a positive year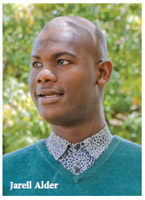 A new university student's first year experience is often like entering a new world.
For many, it's a rite of young adulthood.
For others, it is a journey into further education after years of work and life experience.
For most, the campus is a sprawling setting, an enclosed community of thousands, brimming with challenges, friendships, experiences, and opportunities for development.
All usually find it difficult to navigate. That is why the St. Augustine Campus developed FYE – First Year Experience.
"Students really want support," says Jarell Alder programme coordinator in the Division of Student Services Development (DSSD).
He would know. His responsibility for designing quality student programming that engages students and enriches their lives on campus makes Jarell well-versed in the student experience. One such initiative is The UWI St Augustine FYE.
FYE, UWI's annual student orientation, targets undergraduate and postgraduate students. Through a holistic compilation of all orientation and transition events, students can embrace every aspect of university life.
"Holistic" is a key word in FYE. DSSD does its best to reach all students through sub-programmes - for persons with disabilities, international and regional students, mature students, postgraduate students, students new to residential life on campus, and even commuting students.
But "holistic" also applies to the students themselves - as in their holistic development:
"Student programming contributes to the creation of global citizen. A global citizen is not just someone who is intelligent. It is someone who is holistic in their thinking and involvement," says Jarell.
It is this aspect of the field that drew the young professional, himself a UWI alumnus, to the occupation.
"I have found great purpose in student services. You are in a position of influence. You are dealing with the next generation of leaders, people who are going to change the landscape, not just of the country, but at a global level. I really find it inspiring."
UWI Smart Start is the first rung in the FYE ladder. A pre-university orientation programme for prospective students, Smart Start helps them understand the realities of campus life. For students who have been accepted to UWI, information and access services are at their fingertips – online – and, physically, at faculty offices and the DSSD.
At the time of writing, there were also plans to create a closed Facebook group for students who have been given an offer to attend UWI St Augustine.
"Students should know that we are grateful they have made the choice to #BeUWI on the St. Augustine Campus. We are taking a rigorous approach and unified approach to ensure that, at every touchpoint, the campus is working in their best interest," says Jarell.
The FYE theme for this Academic Year is 'Dare to Be' and The UWI St. Augustine Campus is ensuring that each student is equipped to face the challenges ahead and to fulfil all they were meant to be.