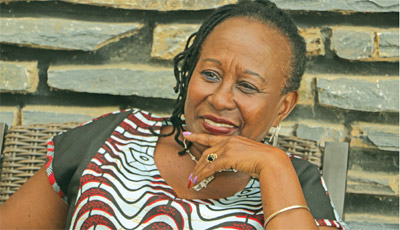 In Trio, the ninth story of Opal Adisa's anthology Love's Promise, the remorseful narrator tells the story of an affair with her daughter's husband, and getting pregnant. She says, "me really, really need to tell someone and get it off my chest cause it's like a dead horse lying on top of me."
The reader feels the weight as well - of remorse, shame, and loss. It's a hard read, not what you'd expect from a book described as a "sweet respite".
"Women really hate this story," Professor Adisa laughs. "Love is such a strange thing. For me part of my job as a writer is to try and get people to understand and be less judgmental. Not to condone, because I don't condone it. But things happen and I'm trying in my work to understand the complexity of emotions."
Surprisingly, that search for understanding is what stands out most about the 11 stories that make up Love's Promise. It is, as the introduction by Professor Carole Boyce Davies of Cornell University says, "a refreshing mélange of joys and sadness".
Love's Promise is a rigorous examination of human emotion. Adisa has thought about love, and she's thought about it very deeply.
Professor Opal Palmer Adisa is an award-winning writer and performer as well as the Director of the Institute of Gender and Development Studies (IGDS) at The UWI's Mona Campus in Jamaica. She's a feminist and Caribbean woman, deeply invested in the culture of the region. The great joy of speaking with her is listening to how she unveils the intricate inner architecture of ideas on the things she is passionate about - womanhood (and manhood), the arts, cultural preservation, and of course love.
Professor Adisa was in Trinidad and Tobago at UWI St Augustine in June to launch Love's Promise along with Interviewing the Caribbean. The ceremony, at the campus' Alma Jordan Library, attracted several well-known writers, artists, educators, and lovers of the arts.
Interviewing the Caribbean, created in 2015, is a cultural journal that includes interviews with prominent writers, artists and gender activists. Subjects include legendary painter Lerory Clarke, author Earl Lovelace, Professor of Gender and Principal of The UWI Cavehill Campus Eudine Barriteau, and UWI St Augustine's own Principal, Professor Brian Copeland.
She views this publication as a much-needed tool for cultural preservation: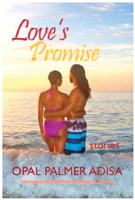 "Our culture is rich but it's dying. I find that many of the younger people are not in tune with our stories. Even at Mona we have an obelisk with the names of the men and women who worked that plantation before it became a university and a lot of the students are totally oblivious to it. They never seem to take the time to reflect and to say 'I am here because of those people'."
"My nieces and nephews know no Anansi stories," she says.
Growing up on the Caymanas Estate (a sugar estate about 15 miles from Kingston, Jamaica), Adisa was deeply connected to the culture and land.
"I had that immense space to roam. And I used to roam. I was considered a tom boy because the gender equality thing wasn't there. I climbed trees and jumped off buildings as a little girl. I went to the canals and swam with my brothers (she has two brothers and a sister). I went into the woods with my slingshot. My brothers allowed me to be with them. I was curious."
That seeking, roaming and curious nature is all over her work. She's free of cliché like only an inquisitive mind can be. Deeply feminist, she speaks of Caribbean women like her mother and the "community of the market".
"My mother used to take me to the market and there was something about the women there who were their own persons. I saw the way they bonded together if someone tried to rob them, that camaraderie," she says. "Just about all of my stories, even though they feature men, the primary protagonists are women. The woman's energy is very much a big part of the Caribbean."
Still, she wants the "war between men and women" to stop: "there is a kind of imbalance that has happened in the last 30 years. We've looked at the imbalance of women and now we are seeing there is an imbalance of men. How do we rectify that? How do we find a way to look at both men and women and what our specific needs are in the society? How can we best support each other?"
Love's Promise is filled with this kind of wisdom. The book, she says, is about love "but not all love is pretty love." The anthology includes supernatural stories such as The Living Roots, stories that look at the abuse women face such Matrimony, the love of mother and children, and yes, "pretty love" stories such as the title story itself, Love's Promise.
Professor Adisa has several writing projects either ongoing or planned while managing to discharge a very demanding administrative position as IGDS Director. And, of course, there is Interviewing the Caribbean. Adisa has personally conducted and written many of the interviews. How does she do it all?
"My head is always filled with stories and ideas," she says, smiling.
But more than the ideas, is the inclination, to climb, jump and swim through their terrain.