Designing an MA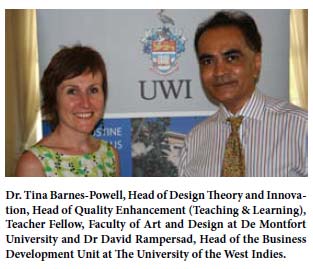 The idea of an MA in Design has evolved into a collaborative venture with De Montfort University, Leicester, UK and The UWI. Discussions led to a directive from the Campus Principal that ideally the cross-disciplinary design programme should be located in the Creative and Festival Arts Department. With this intent and with the support of the Business Development Office, a proposal to adapt the programme of De Montfort University, an MA Design Entrepreneurship, was accepted by the committee charged with the responsibility of developing the programme, under the chairmanship of the Head of the Department of Creative and Festival Arts.
Meetings with the Director of the Business Development Office and De Montfort University Faculty followed after a visit to De Montfort by the Campus Principal himself, Professor Clement Sankat, who was impressed with the programme at De Montfort, which is located in its Faculty of Art and Design. The De Montfort programme "provides a framework for developing design entrepreneurship skills in a professional management context."
The UWI working committee prepared for a visit from the faculty of De Montfort University from June 8-June 11, 2009 to finalise design of the programme … [into] a uniquely UWI programme, addressing the particular needs of the Caribbean and the world through the Caribbean experience."
The expected start-up date is January 2010. Initially the core courses will be taken from De Montfort's programme and delivered by De Montfort faculty, while the electives and workshops will be primarily delivered by The UWI faculty.