Out on a canvas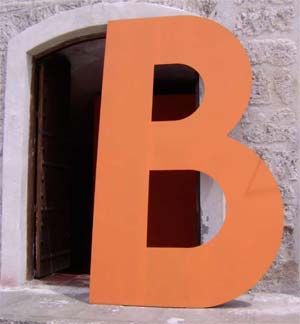 For any artist, to be invited to show at the prestigious Havana Bienal in Cuba is cause for excitement. For Steve Ouditt, it was also a reaffirmation that he was part of the community of artists holding global conversations.
In its tenth edition over 25 years, the Bienal's curatorial theme was Integration and Resistance in an Era of Globalisation. It's not, as one might surmise, a theme built on a Cuban penchant for revolución—previous themes have included Tradition and Contemporariness, The Individual and his Memory, One Nearer the Other, The Challenge of Art and the ubiquitous reflection on Art and Life.
In truth, Ouditt's work constantly discusses the latter theme, sometimes sexually (his imposing Carifesta 1992 installation Fertility Man was removed after protest) or politically, or mockingly, but always it seems with the intention to drag the viewer away from passivity.
"Provocative firetruck, aren't you?" BC Pires had said at the showing of BLU R BS, Ouditt's artistic research PhD, The Abjection Collection, in early 2008. The installation had comprised definitions of words presented in cases covered by something like plexi-glass that rendered the type in a drizzling opacity that left the viewer craning for clarity.
It is the kind of interaction Ouditt wants his work to inspire, part of the sense that the artist is in conversation with society "about this thing called everyday life," and in a sense, vice versa. Reading from his thesis at BLU R BS, Ouditt had invoked the question of what we want from art, and the proposal that it is equally important to invert that question to consider what art asks of us.
The nature of his art, says Ouditt in recent conversation, is "not in the images," and it has been so since the early nineties, "when I did the Jocks-Tuh-Pose thing and we started 3Canal, people took fragments of them... Even at that time there was a quality in the work of interactivity. In Cuba, looking at who took the work was also part the work itself, and not just the work on the wall."
Ouditt had put out copies of the pieces on exhibit—24 stacks of 50—and within half an hour all 1200 were gone. The pieces, initially commissioned for a showing in Reykjavík, Iceland, titled Re-Thinking Nordic Colonialism, in 2006, had interested curators in Havana.
"I made this work, The Plantation Economy and Trademark Capital, that was researching and asking a question that I suppose any artist would ask: was there an art history or a design history of the plantation economy? In other words, is there an art historical narrative of all kinds of moments in political development that are not necessarily narrated though political sources? So can there be an art history of revolution, can there be an art history of gender issues, can there be an art history of global warming? It sounds like a moot question, and yes, it is. I think once societies can make themselves aware and accepting, and engage that question, that will open up possibilities for a new kind of practice."
He set out to explore the art history of the plantation economy, and decided he was more interested in how it was rather than what it was, and he focused on services relating to government, military, entertainment, finance and tourism.
"When you look at the work you will see that it is about a post independence plantation economy, and you will see that also because of the treatment of the images. The images all look like 1960s pictograms that you might have seen from the Olympic Games or something, and that's deliberate. They look like the search for a logo. They look like the search for iconography and icons of services."
His search for the how not the what might be what gives his work a distinct resonance. His oeuvre is not "pretty art. In an earlier interview, he'd said that he wanted to do art that "explored, provoked, questioned…" and he knew he was going against the flow, "for to be an artist from a small place is to choose a life on the fringe."
Nowadays, as a visual arts lecturer based at the Department of Creative and Festival Arts of The UWI, he is not quite on the fringe and he finds students open to a similar engagement with their art.
"I think many of them are moving in that direction," he said, meaning their work was unlike that found in commercial galleries.
"Commercial galleries have their function and I think once you understand that you will know where you are," he said. "It is a mistake to slag off the commercial galleries because you expect them to do experimental work. That's nonsensical and a lot of the senior artists in this society continue with that kind of adolescent angst, and they should grow up."
He contends that even if the "still life with pumpkins and mangoes" holds its place, it doesn't mean that other art forms are nurtured—not in a "place with a small and very conservative art culture."
"Nobody cares. …To make something work you have to be working in a situation where you know there are people with integrity who will support what you are doing, and support your ideas."
Ouditt knows he is not alone in this artist's desert, and it doesn't faze him. He simply takes his work abroad. He recommends that artists do the same, but warns that it isn't easy to make the "international cut."
Over a four-year period this particular work has spun around the globe, merging with and appropriating cultural concerns.
"In Reykjavík, it was Re-Thinking Nordic Colonialism. In Brooklyn, it was called Infinite Island, looking at the Caribbean art. In Guangzhou, it was called Farewell to Post-Colonialism, where the Chinese curators were saying goodbye as well as wishing it well. In Cuba, it was Resistance and Integration in the Global Era," said Ouditt.
"When you look at those names and those themes over four years in these shows, it tells you something about the curators, the sponsors, and the societies as well as the artists who are invited and the work that they do. And it becomes tedious to try to discuss your art with people who don't know anything about it."
These photographs were taken in Havana during the recent 10th Havana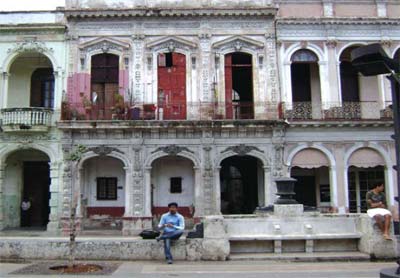 Bienal by Ayodhya Ouditt, whose description follows.
As we stepped out of our room, we'd be facing the central square courtyard of the building where we were staying. It was a small square of space cut right through the two stories of the structure. It was therefore possible to stare up into the sky or towards taller, adjacent buildings, such as the one featured in the photograph at right. The shot at left would have been taken fairly early on any of the mornings before we set out for the day. The arch and corrugated black shapes framing the shot are the arch and green galvanized roof (respectively) of the hotel we were in. So it's looking up diagonally through the central courtyard. At night it was bathed in dusk and the small amber of someone's room's light would peek through the rectangular window. It was wonderful. It made me think of Aladdin, running across rooftops... the rooftop prince... The picture above is located along a long, paved area where people jog and walk and children play baseball with crown corks. The feeling you get there is Brian Lara Promenade/Brooklyn, with trees of various sizes. It's lined by ancient buildings, many of which are apartment complexes with four or seven people living in one apartment.