Silver award for Jarvis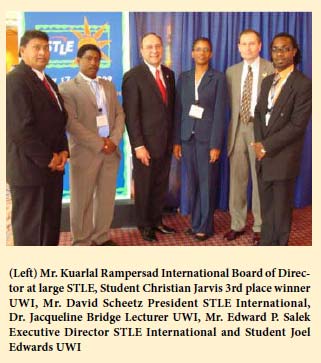 Undergraduate student, Christian Jarvis has won a silver award for his poster presentation at a competition held by the Society of Tribologists and Lubrication Engineers (STLE).
Tribology, in case you are wondering is the scientific study of surfaces in relative motion, like bearings, for instance.
Jarvis and the other UWI entrant, Joel Edwards, are students in the Dept of Mechanical and Manufacturing Engineering. They were the only two undergraduates to have entered, the rest of the 31 entrants being PhD and MPhil students mostly working with collaborators.
Jarvis's presentation was "Characterization and Applications of Shape Memory Alloys." Based on work he is doing (supervised by Dr Jacqueline Bridge), he demonstrated how this new material, SMA, whose two main physical characteristics are pseudo-elasticity and temperature-induced transformations, could be used in the design, construction and testing of a thermal actuator and heat engine.
"The pseudo-elastic nature of SMAs allows for relatively large amounts of strain at almost constant applied stress without damage," explained Jarvis, and this makes them ideal for use in "vibration isolation."
Joel Edwards's subject, wave energy, was particularly relevant in the area of moving away from oil as the primary energy source. His presentation, "Studies on an Oscillating Water Column," focused harnessing ocean wave energy. His research, done under the supervision of Prof Chanan Syan, involved designing and testing an oscillating water column wave energy converter specific to Caribbean conditions.
The students were both present at the 64th annual meeting of the STLE in Orlando, Florida, where the winners were announced in May.