BA in Dance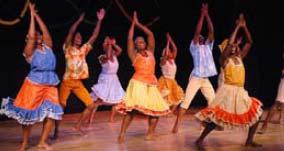 The University of the West Indies is now inviting applications for the BA in Dance undergraduate degree. The programme aims to produce graduates who are both theorists and practitioners of dance, versed in the range of art forms, and capable of imparting knowledge of dance to others through the formal education system. From September 2009, the programme will be offered full-time over three years, or part-time.
"We want to produce people who can be writers and researchers, critical and creative thinkers. In Trinidad and Tobago, our concept of dance remains within the performing arena. I'm trying to get people to understand that there is more than a practical component to dance. It's not just about body movement," says Hazel Franco, Coordinator for the new BA.
The emphasis of the Dance degree is on providing a high level of academic and technical training to prepare undergraduate students to integrate into higher levels of tertiary education. The programme is aimed at providing the local and regional dance industry with competent practitioners having the capacity to deliver dance education material to students in their national school systems.
Franco, a full-time Instructor in Dance at UWI's, Department of Creative and Festival Arts, describes dance as "essential" to Caribbean identity: "Dance is non-verbal communication. It is expression of life. In every arena, there is dance, there is movement, some of it dramatic, some of it playful, some of it political. Movement is the very basis of our being. If we don't understand why we move, how we move, then what kind of society are we?"
The programme is focused on all dance forms, with special emphasis on folk dances, and explores those associated with the national cultural festivals of the Caribbean, such as Trinidad Carnival, Tobago Heritage Festival, La Rose and La Marguerite in St Lucia, Carriacou's Maroon Festival, Barbados' Cropover.
"There are very few programmes of this nature in the region. Caribbean people who have an interest in dance have had to go abroad to pursue development."
The programme, which aims to bring in world-class practitioners along with local and regional experts, was designed specifically for local and wider Caribbean needs. It is the first BA in Dance degree programme in Trinidad and Tobago The intake is not likely to exceed 30 students for the first cohort.
APPLICATION PROCEDURE Online applications will continue to June 29th 2009. For application details, please visit http://sta.uwi.edu/postgrad.apply.asp. Applicants must possess two Advanced Level/CAPE subjects and pass a dance audition. Applicants with a B average in the Dance and Dance Education Certificate Programme can enter Level 1.
POSTGRAD OPTIONS The University of the West Indies, Department of Creative and Festival Arts offers a postgraduate diploma in Arts and Cultural Enterprise Management (ACEM), and a Diploma in Education (Dip Ed) in Visual and Performing Arts. For more information on courses available at the UWI DCFA, please visit the official website at http://sta.uwi.edu/fhe/ccfa.
ABOUT THE PROGRAMME LEADER Hazel Franco graduated from York University, Toronto, Canada, with MA in Dance Ethnology. She has over 30 years of experience as a performer and teacher in the local and international dance industry. Currently, she is the full-time Instructor in Dance at The University of the West Indies, Department of Creative and Festival Arts. She is an active researcher of Trinidad and Tobago Folk Dance History.