June 2009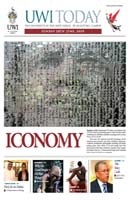 Issue Home >>
Honour Roll
The UWI will confer honorary degrees on 16 individuals during graduation ceremonies on all its campuses later this year.
At the St. Augustine Campus, Yesu Persaud is to receive an LL D for his entrepreneurial and philanthropic endeavours, particularly in transforming Demerara Distillers Ltd into one of the most technologically advanced distilleries in the Caribbean. Petroleum industry pioneer, Robert Riley also receives an LLD for his work in the sector (see feature on preceding pages). Theatre artist and poet Christopher Laird will receive the honorary D Litt along with environmental activist Angela Cropper, Assistant Secretary-General and Executive Director of the United Nations Environment Programme, and noted biographer, Prof Arnold Rampersad.
At the Mona Campus, John Issa, one of the most influential figures in the Jamaican tourism industry, will receive a Doctor of Laws degree, as well as Oliver Clarke, Chairman and Managing Director of the Gleaner Company. The degree DLitt honoris causa will be awarded to John Maxwell, veteran journalist and environmental activist, Dr Anne Walmsley, publisher and cultural historian, and Prof Colin Palmer, scholar and historian.
At the Cave Hill Campus, Sir Frederick Ballantyne GCMG (Knight Grand Cross), Governor General of St Vincent and the Grenadines, will receive an Honorary Doctor of Sciences degree. Paul Bernard Altman, leader in tourism development and heritage conservation in the Caribbean, will be honoured with an LLD, as well as Sir Lloyd Erskine Sandiford, the fourth Prime Minister of Barbados. Prof Zelma Edgell, Belizean novelist, is expected to receive a DLitt.
At the Open Campus, an LL D will be awarded to Peggy Antrobus, social worker, who was responsible for initiating the Women and Development Unit at the UWI School of Continuing Studies and the Commonwealth Save the Children Fund. The artist responsible for designing the national flag of St Lucia in 1967, Dunstan St. Omer will receive a D Litt.