Corporate Ethics at the centre
"If you have integrity, nothing else matters. If you don't have integrity, nothing else matters."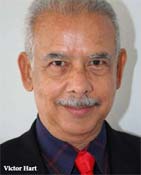 That was one of many memorable thoughts shared at the Third Biennial International Conference on Business, Banking and Finance (BBF3), which took place at the St Augustine Campus' Learning Resource Centre (LRC) last month. The speaker, Victor Hart of Trinidad and Tobago Transparency Institute (www.transparency.org.tt), would drop another gem when he defined corruption as "the misuse of entrusted power for personal gain."
It was that kind of conference.
Themed "Financial Services in Emerging Economies: Surviving the Global Economic Meltdown," BBF3 is widely regarded as a forum for the exchange of ideas on critical business, banking and financial issues facing emerging economies in the context of a global financial and economic meltdown of unprecedented proportions. The conference was jointly hosted by the Caribbean Centre for Money & Finance (CCMF) and the Sir Arthur Lewis Institute of Social and Economic Studies (SALISES), and the Department of Management Studies, with the support of First Citizens Bank, CMMB and Scotiabank.
Perhaps it was UWI Pro Vice Chancellor and St Augustine Campus Principal, Professor Clement Sankat, who set the tone when he said, "I firmly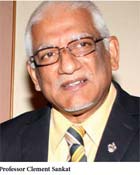 believe that the time has come for a repositioning of ethics and values at the centre of international business and political affairs."
Professor Sankat was speaking moments after Prime Minister Patrick Manning delivered the keynote address at the BBF3 Opening, an evening ceremony which would include addresses by Ram Ramesh, CEO of CMMB; Angella Persad, President of the T&T Chamber of Industry and Commerce; Larry Howai, CEO of First Citizens Bank; and Dr De Lisle Worrell, Executive Director of the UWI Caribbean Centre for Money and Finance (CCMF).
The BBF3 was targeted at scholars, policy makers, graduate students and professionals from across the western hemisphere. Among the high-profile participants who gathered for the threeday conference were Dr Kenny Anthony, former Prime Minister of St Lucia; Dr Marion V. Williams, Governor of the Central Bank of Barbados; Catherine Kumar, RBTT; Michael Mansoor, FCIB Chairman; and David Dulal-Whiteway, Managing Director of Republic Bank Limited; Steven Phillips, IM F Division Chief of the Regional Studies Division; and Senator Mariano Browne, Ministry of Finance.