Fiery Ice in Dubai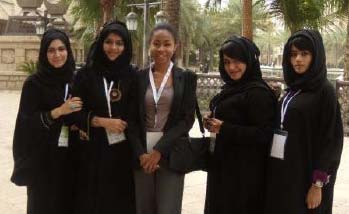 Salomi Hope, a final year student of Petroleum Geoscience in the Department of Chemical Engineering recently presented a paper called "Could Fiery Ice be a future source of Energy for Trinidad and Tobago?" at the Education without Borders International Student Conference in Dubai, United Arab Emirates. This biennial conference hosted about 550 students from 120 countries this year and focuses on the sharing of ideas to promote a better world through technology. From the 1,000 plus abstracts submitted, 550 abstracts were approved with 44 papers and multimedia presentations chosen to be presented, a first for The University of the West Indies.
It rained during the entire conference, unseasonably so, given that Dubai's coolest months are between December and March, and even then temperatures are just slightly lower than 45°C. The rare April showers probably cooled Salomi Hope's excitement as she arrived in the opulent, subtropical city where swimming pools at hotels are routinely chilled for guests.
It was the ideal environment to present a paper on "fiery ice," which was why the final-year student was at the Education without Borders Conference. Her submission had been selected from more than a thousand entries, and so just being there was already something of an accomplishment.
She'd submitted a paper after she noticed a flier posted up on the wall of the undercroft and Dubai's reputation for ornate architecture held such a romantic appeal that she turned her head toward preparing a critical analysis paper that addressed the theme: e-nergy – The future of Energy on Earth.
Her paper, "Could Fiery Ice be a future source of Energy for Trinidad and Tobago?" dealt with natural gas hydrate: crystalline solids of natural gas found in the shallow subsurface in deep marine environments. She contended that as an energy source, it was applicable to Trinidad as suitable conditions exist in the Eastern offshore ultra deep regions and cores containing gas hydrates have been found between Trinidad and Tobago.
Salomi and two other UWI students attended: Jasmine Mannie, Department of Mechanical Engineering and Carlene Boodoo, a Land and Surveying Masters student. For them, it was unforgettable.
"Being at the Atlantis Hotel [for a gala dinner], was an experience in itself," said Salomi. "The architecture was similar to a fairy tale castle. The interior was covered wall to wall with decorative marble and there was a massive indoor salt-water aquarium." She said they had to forego a desert tour at night because of the unexpected rain, but they still had plenty to do.
"Our schedule was packed, our day started promptly at 7am, but we still made use of the limited free time for sightseeing and visiting the souks (markets selling traditional Arabic souvenirs). It is a thriving city with state of the art architecture and 7-star hotels such as the Burj al Arab and the tallest man-made structure, the Burj Dubai. The many man-made islands such as the Palm and the World are also main tourist attractions."
It was a once in a lifetime experience, she said, noting that the next conference is scheduled to be held in Dubai in 2011, and encouraging other students to submit papers. "I found out about it from a flier, but it was posted on the Engineering website, so look out for it and enter, you won't regret the experience."