Listen to the Deaf
By Samantha S. P. Mitchell

Although many Deaf receive an appropriate primary school education, many do not go on to pursue secondary and tertiary level studies. Recent studies continue to find a positive correlation between tertiary education and wage earning capacity, which points to the need for authorities to provide opportunities for members of the Deaf community and other Persons With Disabilities (PWDs) to explore their academic potential at the tertiary level. These issues were the focus of the Seminar on Deaf Language and Culture held on May 29th, at the Center for Language Learning, UWI, St. Augustine.
An ILO Caribbean Regional Technical Meeting in 1994 on National Disability Policy and Legislation to Promote Equality of Opportunity and Treatment in Training and Employment of Disabled Persons called on regional governments to "stimulate national awareness and action to create training and employment opportunities for PWDs, by organising national seminars involving the social partners and organisations of PWDs in order to determine national disability policy objectives and legislative needs."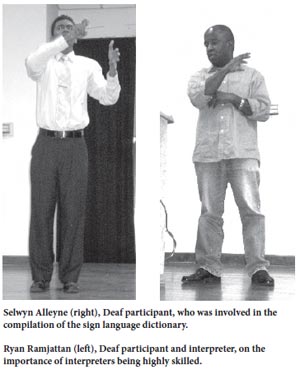 Countries such as Guyana, Barbados, Antigua, St. Lucia and Trinidad and Tobago, have completed consultations and/or implemented recommendations towards developing national disability policies. The Ministry of Social Development of Trinidad and Tobago must be lauded for its efforts through such initiatives as the collaborative compilation of "The Dictionary of Trinidad and Tobago Signs: First Edition," and the use of interpreters for various public announcements.
Co-organizer of the Seminar, Dr. Benjamin Braithwaite, said the aim was to ensure that the Deaf spoke in their own voice on issues pertinent to their advancement. He indicated that much was happening in the area of Deaf language and culture, such as the launching of the Trinidad and Tobago Association of Interpreters for the Deaf (TTAID), the publication of the dictionary, and the commencement of new courses in sign language/interpretation at UWI.
Professor Valerie Youssef saw the forum and the courses in Sign Language as a dream come true, following almost five years of negotiations with the Ministry of Social Development to set up a Caribbean/Trinidad Sign Language programme. She said it was important not to simply import or adopt a programme from a foreign university, the emphasis of which would be American Sign Language (ASL), to the detriment of Trinidad Sign Language.
Deaf participant, Ryan Ramjattan, spoke of the need for interpreters to be highly skilled and to educate themselves in various subject areas, so that they could be in sync with the culture and signing styles of the Deaf person. He lamented that the language barrier between hearing and non-hearing persons was a disadvantage to the Deaf in daily life, and even in job interviews where they appeared to be uneducated. Azim Kallan shared his challenges as a Deaf student, saying that even though he was well educated in his field, many persons still marveled at the fact that he was so highly skilled 'for a Deaf person'. He indicated the need for hearing persons to change this perception, as the Deaf are capable of performing competently alongside their hearing peers, once provided with the necessary educational opportunities and work support.
Cheryl Maniram stressed the need for a meshing of ASL and Trinidad Sign Language into a mutually intelligible Deaf language which would bridge the gap between younger and older users respectively. Dana Smith shared the challenges of pursuing a degree as a Deaf student at the University of Trinidad and Tobago, and reiterated the importance of having interpreters whose level of education was capable of meeting tertiary level needs.
Nicole Fraser-Paul of the TTAID shared the group's intention to pursue further training towards provision of more quality services to the Deaf. Also highlighted was the need for interpreters to specialize in various areas to effectively serve in health, tertiary and judicial institutions. Shawn Mitchell raised the issue of geographic differences in signing between Tobago and Trinidad and various parts of the islands, and advocated the need for standardization/codification to mitigate these differences. An overarching theme was the need for the Deaf to take responsibility for their advancement and to stop blaming family or society; rather, there was need for them to develop agencies to fight for better resources, more teachers, more interpreters and a more widespread acknowledgement of the importance and role of their language.
While some may argue that scarce resources cannot be further stretched to provide for the specialized educational needs of the Deaf and by extension, other PWDs at the tertiary level, it is important to provide means for those Deaf who wish to pursue tertiary studies within the Caribbean, especially due to the fact that while cases of congenital (from birth) deafness have been decreasing mainly due to early screening and immunization, sudden or acquired deafness is on the increase, as a result of accidents and occupational causes respectively.