June 2011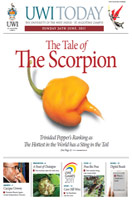 Issue Home >>
Peter Pan to fly in Queen's Hall
Must Come See Productions (MCS), the production arm of the UWI Arts Chorale, in collaboration with Flying by Foy, Nevada, USA, presents for the second weekend, its seventh full length musical, Peter Pan, at Queen's Hall from Friday 1 to Sunday 3 July, 2011. Flying by Foy is a world renowned group expert in theatrical flying. They will assist MCS in bringing theatrical flying to Trinidad and Tobago for the very first time.
Peter Pan, the children's story written by novelist J.M. Barrie and set to music by Broadway legend Jule Styne, and Mark Charlap, is touted as being the "one children's show that adults have no trouble enjoying". This production promises to be another spectacle as it features the combination of technical flying prowess, seasoned actors, an award-winning production team, live orchestra, and a host of talented singing and dancing children. Peter Pan features a cast and crew of Cacique winners, including: Jerrylee David in the title role of Peter Pan, Kearn Samuel as Captain Hook, and a host of talented singing and dancing children in the roles of the "Darling Children" and the "Lost Boys".
In this story, Peter Pan is the boy "who won't grow up." Accompanied by Tinker Bell, Peter Pan meets Wendy, John and Michael in their nursery while searching for his shadow. He teaches them how to fly and journeys with them to the magical Neverland. There they join the Tribe of the Lost Boys, meet Indians and battle pirates, led by the notorious Captain Hook.
Louis McWilliams will direct and Cacique award winner, Jessel Murray, who recently directed the National Steel Symphony Orchestra at NAPA, will conduct the live orchestral accompaniment. Cacique award-winning costume designer Paulette Alfred-Guy-James, scenic designer Sarah Morris and Cacique award winning choreographer Adele Bynoe round out the production.
Reserved seating tickets are available only at Queen's Hall Box Office. Schools can call 746-7499 to make arrangements for tickets for the student matinees on Friday 24th and Thursday 30th June. There are also two discount nights, Wednesday 29th and Thursday 30th, where all seats are priced at only $175.
MCS has been awarded fourteen Cacique awards from the National Drama Association of Trinidad and Tobago (NDATT). Past successes include: Fiddler on the Roof, Oliver!, The Sound of Music, Disney's Beauty and the Beast and 2010's AIDA.