Education
As schools get set to reopen
SOE webinar takes on Whole Child approach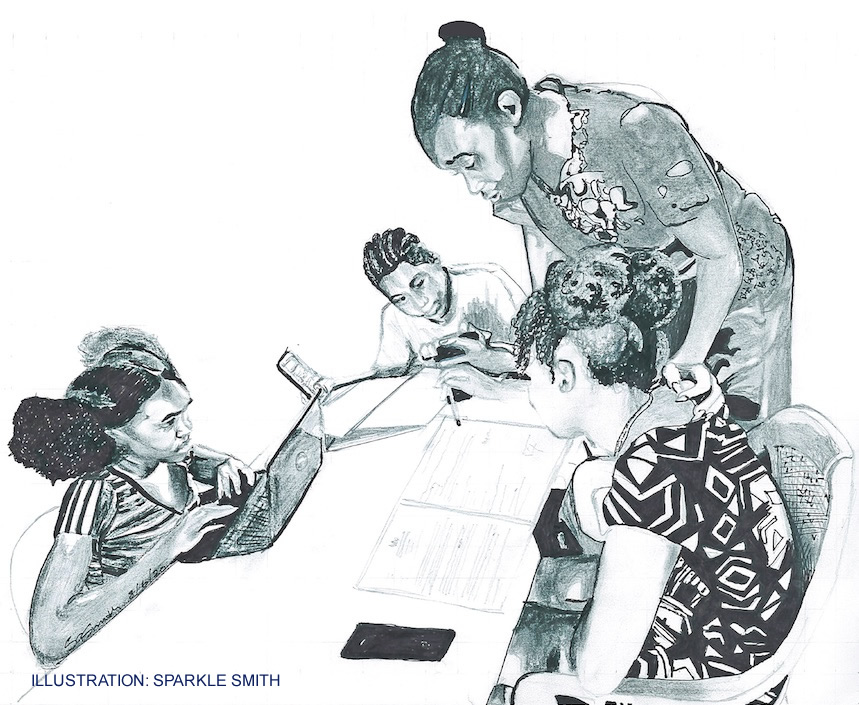 In mid-March, the closure of schools and universities was one of the first measures adopted in T&T's fight against COVID-19. Since then, teachers, parents and students have had to grapple with new realities, including adopting unplanned remote teaching.
Now, with the nation's learning institutions set to reopen on September 1, educators and students face a new set of uncertainties. In order to present a way to negotiate these issues, UWI's School of Education (SoE) hosted a webinar entitled "Educating the Whole Child in Pandemic School Closure and Reopening", on May 26.
The Association for Supervision and Curriculum Development defines the Whole Child approach to education as a set of "policies, practices, and relationships that ensure each child, in each school, in each community, is healthy, safe, engaged, supported, and challenged".
Senior Lecturer and Dean of the Faculty of Humanities and Education Dr Heather Cateau, opened the seminar, saying COVID-19 has been "a massive shock" to our education systems and has shown that this sector "reflects the best and worst in our societies". She commended stakeholders for coping with the adjustments but said it was now time to shift focus and ask fundamental questions regarding "the very relevance of what we teach and how we teach".
She said school resumption "must be a transformative period" for education, and handed the reins to senior SoE Science (Physics) Education lecturer Dr Rawatee Maharaj-Sharma, who chaired the webinar.
Dr Maharaj-Sharma introduced the panels and speakers:
The Whole Child Approach – Ms Jennifer Doyle and Professor Jerome De Lisle
The Whole Child in Pandemic School Closure: Beyond Online Learning – Dr Korinne Louison and Dr Vimala Kamalodeen
The Learner with Special Needs in Closure and Reopening – Dr Elna Carrington-Blaides, Dr Paulson Skerrit and Dr Phaedra Pierre
The Whole Child in School Reopening: Ensuring and Maintaining Healthy Learners – Dr Susan Herbert, Dr Sabeerah Abdul-Majied and Dr Bernice Dyer-Regis
System and School Policies that Foster the Whole Child in Reopening – Professor Jerome De Lisle, Dr Rinnelle Lee- Piggott and Dr Freddy James
Kicking off the first panel, Prof. De Lisle, Director of the School of Education, said the Whole Child strategy had been chosen as a "coherent and evidence based" methodology which "can help us in Trinidad and Tobago to move forward to a new era".
Director of Bishop Anstey High School East and Trinity College East, Ms Jennifer Doyle described the Whole Child system as "an integrated approach," noting the contrast with the traditional, academically focused approach to education. She stressed that Whole Child initiatives seek "not to diminish academic emphasis" but to assure "high-quality, holistic education" and "pay more attention to the all-round development of students".
De Lisle said "Learning is not just academic, it's social, it's emotional", adding that "positive and stable relationships... are critical to learning." The SoE director noted that "school climate is essential for students' learning".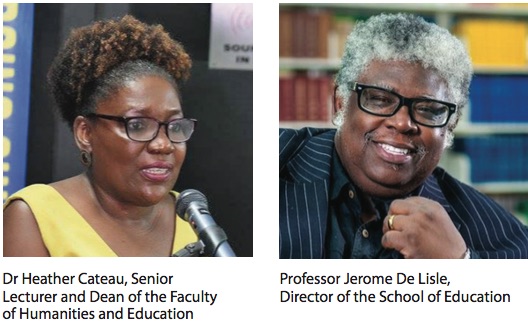 "If a school climate is negative, if people are unsafe, then people cannot learn," he said. During panel two, psychoeducational assessment expert and SoE lecturer Dr Korinne Louison explained that in fostering the development of the whole child it was important to note that intelligence quotient predicts only 50 per cent of academic success. Environment, personality, and learned life skills such as critical thinking, resilience and self-regulation are equal predictors of achievement, she stated.
Dr Vimala Kamalodeen, an educator for nearly 30 years and SoE Math and IT lecturer, highlighted the issues faced by teachers and students during the abrupt shift to "shutdown" remote learning. She mentioned "ad-hoc" lesson regimes with a lack of coordination, guidelines or planning; and parents thrust into new roles as educators. She also noted that the lack of resources and amenities (Wi- Fi, electricity, devices) experienced by many students at home had revealed "the gap between haves and have-nots" in society.
Drs Elna Carrington-Blaides, Paulson Skerrit and Phaedra Pierre discussed students with special needs, saying we should be concerned for special learners, who were often very vulnerable. Skerrit pointed to a need for strong relationships between parents and educators, and opportunities to utilise high-quality educational resources online where available.
Carrington-Blaides said it was often a challenge to find instructional devices compatible with online platforms, citing the difficulty for deaf and hard-of-hearing learners to use popular screen programmes. Pierre noted, however, remote learning has been advantageous for children, such as some with autism or Asperger's syndrome, who are challenged by the classroom environment and social interaction.
She said inadequate resources meant collaboration between all educational agencies was necessary to address the magnified inequities made evident by the pandemic.
Dr Herbert examined school reopening strategies around the world and recommended that standard health protocols like sanitisation, distancing and hand-washing be observed.
Dr Dyer-Regis said educators should "capitalise on parents' engagement" in the wake of COVID-19, and that family and community networks were key.
Rather than risk causing more anxiety with an immediate focus on examinations, Dr Sabeerah Abdul-Majied said schools should use "trauma-informed pedagogy', with social and emotional learning as a priority. "It cannot be business as usual."
Professor De Lisle, Dr Lee-Piggott and Dr James looked at Whole Child policies to inform school reopening. James called for "education systems that promote equity and provide high-quality education to all children, regardless of their background or where they live, giving everyone what they need to succeed."
"Equity closes the gaps," he said.
Dr Lee-Piggott called for support resources and robust data and management systems, especially for those at risk.
She said there was a need to reintegrate students who have lapsed, utilising student support services, health services and even community police: "the reality is that some will not return to school because of the effects of the pandemic." "Because students will return having had varying depths of learning experiences," Lee-Piggott said, "practitioners need to be prepared for diagnosing, remediating and blending modes of instruction."
De Lisle said we have to consider future policies as we reopen. "Policy is not always predictive. We have to continue to collect data to alter our pathway."
---
Gillian Moore is a writer, editor and singer-songwriter.