March 2010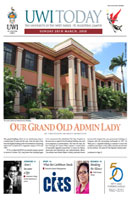 Issue Home >>
Part II: The Writers Who Came
At the end of the 11th edition of Campus Literature Week, Professor Funso Aiyejina, continues his description of its birth and the first decade of its life (1999-2009) under his stewardship.
Part II:
The Writers Who Came
I wish to record our gratitude to our writers-in-residence whose passion and generosity of spirit continue to inspire all. Each writer was unique and gifted us with a different experience and temperament. I remember them for their uniqueness, their love of literature and their commitment to the nurturing of young writers.
I remember Austin Clarke working feverishly, in his room at the Caribbean Lodge, on what would become the prize-winning Polished Hoe. His computer had crashed just before he came to Trinidad and he was painfully reconstructing part of the manuscript. He was way past his delivery date and his publisher was breathing down his back. In addition to working on his manuscript, Austin spent many an evening at the Senior Common Room, bonding and trading stories with the backgammon players, especially Wilfred Permel. When Austin gave his public reading to close Campus Literature Week, he had the audience spellbound. Yet it was his post-reading request that continues to define him for me. After the official reception, we were heading for another lime by Earl Lovelace in Cascade, around midnight. Austin insisted he wanted us to locate 114 Oxford Street, Port of Spain. Not even the promise of the fete and the food that awaited us was enough to dissuade him. He had spoken non-stop about this house in the two weeks he had been around; I knew it was useless arguing with him and his obsession with 114 Oxford Street. It would not have mattered whether it was midnight or midnoon.
114 Oxford Street was his song of innocence and experience. It was home to the first girl to make his heart go bup bup. As a schoolboy in Barbados, Harrison College, of course (Is there any other school in Barbados? I can almost hear Austin ask.), he had a pen pal in Port of Spain. His school was on the way to somewhere for some sport and their boat had docked in Port of Spain for a short afternoon break. Austin had run pell-mell from downtown Port of Spain to 114 Oxford Street to see in flesh and blood the object of his desire, the pen pal to whom he had written a grand total of fourteen letters, the lady who had called him the sugar in her tea in one of her replies. He was going to throw himself at her feet and ask her to elope with him to Guyana or wherever it was the school was off to.
This midnight, many decades after his noon-race through Port of Spain, and after a hilarious reading to an appreciative audience, Austin desired another date with history. As I set the car in the direction of 114 Oxford Street, I started to write the story of Austin's rendezvous with history. (In my head, of course.) I remembered the giant boulders of my childhood and how they now stand like ordinary rocks every time I return home. I remembered the many giant figures of my childhood next to whom I can now stand shoulder to shoulder, all of my 1.74 m.
When we finally located 114 Oxford Street, there was no friendly or unfriendly prospective mother-in-law to tell Austin that Dorcas gone to play bingo, oui and to confirm that, yes, Dorcas did receive his letter giving the name of the boat, its docking time, and Austin's expected time of arrival at the gates of 114 Oxford Street. The house was there. But it was no longer home to a beautiful Trinidadian girl. Austin's place of past potential love had been converted into a place of business. But, Austin boy, what kind of old lady you had for a pen pal? Who ever heard of a young girl giving up the chance to meet a pen pal for a game of bingo? Either which way, I commiserate with you. (114 Oxford Street appears in The Polished Hoe as 114 Cambridge Street. In The Polished Hoe, Austin calls the girl Celia. Whether or not he had called her Dorcas when he told me the story, I prefer Dorcas to Celia. Dorcas is more likely to be a middle-aged bingo player than Celia.)
Olive Senior. I met her at the University of Miami in 1994 at the Caribbean Summer Institute, long after I had fallen in love with her prose and poetry. After that first meeting, I knew I would love to have her read in Trinidad as soon as I could get the funds approved. When the recommendation to invite her was eventually approved, the quantum of funding was paltry. But once I explained the financial constraint to her, she agreed to come, mainly because she was convinced of the need to nurture the literature of the region. I remember many things about Olive's two tours of duty with us, but the one episode that sticks was driving her to Piarco airport at the end of her stay, on Dimanche Gras night, to catch a plane back to Toronto. She had come over to the house to watch part of the show with my family. Just as the wine was mellowing the mood and the conversation getting off the ground, it was time to head out.
As we made our way into a near empty airport, I wondered what the airport staff must be thinking of this woman who was boarding a plane to leave on a day when many would give anything to be on the ground to be part of what Trinidad and Tobago loves to refer to as the greatest show on earth. That evening was the least busy I have ever seen Piarco airport. I have no doubt other travellers were there that night, but every time I think of Olive since, I see this lone traveller walking through the departure lounge onto the plane, wondering why in God's name she must head back to the winter in Toronto.
I remember Erna Brodber in the company of Merle Hodge, Jennifer Rahim, and myself finding ourselves in a mayoral box, guests of the Mayor of Point Fortin at the National Finals of the Stickfighting Championship, courtesy of the culturally well-connected Eintou Springer. I remember Erna setting the MFA students loose in Curepe one evening and asking them to observe, take notes and return to class to write up their observations. No verbal communication between students and the crowd was allowed. Erna's technique for developing the students' powers of observation reminded me of Olive's use of pictures to stimulate perspectives from students. Olive would distribute arbitrary photographs and ask each student to choose a character in his/her picture and tell a story from that character's perspective and history. One of the students that year wrote what I consider her best story based on this exercise.
John Stewart was an aficionado of the stickfighting culture of Trinidad and Tobago. The MFA class would ride with him and the staff of the Ministry of Culture, Gender and Youth Affairs, again, courtesy of Eintou, to the Central Market in Point Fortin for National Finals of the Stickfighting Competition. John had done extensive research among stickfighting families of the South, research that fed his creative writing. I had met many of the stickfighters through Eintou but it was a bonus to be reintroduced to them by a scholar with whom they were on a first-name basis. By the end of that evening, after the interruption caused by a burst water pipe, I was right inside the gayelle with my camcorder recording. Stickfighters from Talparo flanked me, with their boix criss-crossed in front of me to form a protective barrier, on the off-chance that a bois flying out the hands of duelling stickfighters came in my direction. In the year of his residency, John took us to Moruga to meet the legendary stickfighting champion, Mr Mooksilal (Dennis Acres), who gave me a gift of one of his boix and a bottle of babash (bush rum). The following year, John returned with his wife on a private trip and took me on his visit to Talparo to interview the other legendary, now physically challenged, champion, Hector Frederick.
I remember Jan Carew arriving at Piarco, frail but feisty. He was chatty and full of life as we drove to the guest house in Valsayn. No sooner had he set foot in his room than he had a nose bleed. He was as calm as we were alarmed. On his instruction, we called his medical-doctor-wife in the US and she directed us on how to manage. She reassured us that the nose bleeds were simply connected to the blood thinner he was on and the long flight he had been through. That week, Jan Carew gave a freewheeling, engaging, and humorously anecdotal keynote address at the West Indian Literature Conference which had subsumed Campus Literature Week for that year. (See Jan Carew, "Heirs of All Times" in Funso Aiyejina and Paula Morgan (eds), Caribbean Literature in a Global Context, Lexicon Trinidad Limited, 2006.)
Lawrence Scott and I go way back. Way back beyond Campus Literature Week to the 1970s when we were part of a lime that included Ken Ramchand, Derek Walcott Raoul Pantin, Anthony Milne, and Earl Lovelace whose place in Matura was often the liming spot. I remember Lawrence as a sensitive and caring individual with a commitment to excellence. He was all of these to the MFA class; paying meticulous attention to their work and always encouraging.
Of all who have served as writers-in-residence, Earl Lovelace is the one with whom both the department and I have had the most enduring relationship. Earl is a fascinating workshop facilitator. He would warm up to the work under consideration with what often felt like hesitation (coded in his "em", "very good…, very good", and doodles of crude circles, sometimes intersecting, with multidirectional arrows running through them); his audible rumination; his questions, directed at no one in particular, were followed by a burst of reflections and analysis of the manuscript or topic under discussion. Every observation is carefully weighed before being released to the audience. I have come to the conclusion that he is not capable of giving a dull reading. Every reading is as much a performance for the audience as it is for himself. He sets out to make himself laugh as much as the audience. When you combine his infectious laughter with the highly humorous timbre in his writing, all you can get is a blast. I remember Earl. Earl is the West Indian writer with whom I have shared decades of friendship, a friendship that has resulted in my editing Growing in the Dark (a selection of his essays) and A Place in the World: Essays and Tributes in Honour of Lovelace@70; a friendship which deserves its own account in the fullness of time.
I was very apprehensive about Rachel Manley's visit. She had written to Rhoda to warn about her finicky eating habits, her gimpy right leg and an obsessive need to ask a million and one questions. But she turned out to be one of the least demanding and most charming writers I have ever had the good fortune to look after. By the end of her stay, she had fallen in love with dhalpouri roti (and the maker of the roti) and we had taken to calling her Ra-Ra (her grandfather's nickname for her) and she, though older than me, had dubbed me her Uncle Funso.
The experience of coordinating Campus Literature Week has been exhilarating. It has given me the opportunity to interact with many writers at close quarters. It has also provided the freedom to actualize my deep-seated belief in the power of literature as a humanizing agent. I believe literature is the art that best captures the emotions, feelings, moods and aspirations of a society. I feel that a society which ignores literature and its implicit lessons is on its way to becoming soulless. It is my hope that Campus Literature Week will continue to grow and continue to help us in building, fortifying and promoting a literature that is capable of guiding us towards a complex and multifaceted understanding and appreciation of the histories and landscapes of our personal and communal neuroses, emotions, aspirations and inspirations.
Funso Aiyejina
Coordinator, Campus Literature Week, 1999 - 2009.