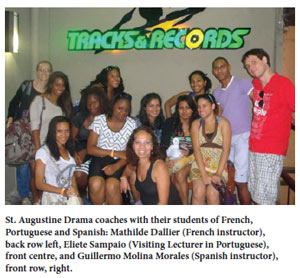 The Inter-Campus Foreign Language Theatre Festival is hosted alternately by each of three of the four campuses of the The UWI on an annual basis. It is designed to stimulate interest in foreign languages, engage students in language use and study outside of the classroom and help students put into practice what they have learnt.
It is also meant to encourage regional awareness. So, from March 23 to 27, 15 students and three lecturers left the Department of Modern Languages and Linguistics (DMLL) to represent The UWI, St. Augustine at the 14th festival, at Mona in Jamaica.
Dr Paulette Ramsay, Head of the Department of Modern Languages and Literatures at Mona took us under her wing for the duration of the trip and proved a most gracious host. We were treated to a delicious Jamaican-style breakfast at the Confucius Institute, including ackee, dasheen and festival (a savoury corn roll similar to fried bake).
Impressive theatrical productions were performed in French, Spanish and Portuguese at the Philip Sherlock Centre for the Creative Arts (PSCCA). Mona also presented a Chinese song and a Japanese dance, and the latter included audience participation.
Mona's French play was La Conquête ("The Conquest"), and Cave Hill's was Le Bourgeois Gentilhomme ("The Bourgeois Gentleman"), while Mona's Spanish play was Fugitivos ("Fugitives") and Cave Hill's El Delantal Blanco ("The White Apron").
The St Augustine French play, Une Leçon sèche ("A Dry Lesson"), a 1998 satirical comedy in one act, written by Jean-Michel Besson and Jacques Thareau, was directed by Mathilde Dallier. The play had been performed at St Augustine during La Semaine de la Langue Française et de la Francophonie 2014. The Mona audience was fully engaged. In the play, a lifeguard is off to get married, so he asks Gaston, a lazy pool attendant, to give swimming lessons to three students. The problem is that Gaston himself has no clue how to swim, but dedicated as he is to his job and colleagues, he agrees.