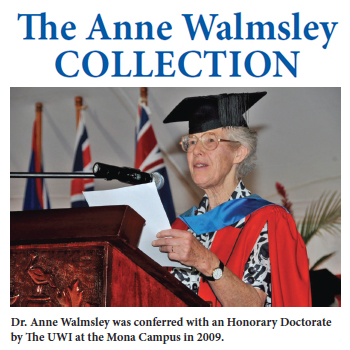 The UWI now owns the Anne Walmsley Collection. Dr. Anne Walmsley is renowned for her research and writing on Caribbean arts and her work in publishing Caribbean writers through Longman's Press. For her outstanding contribution in this field, she was conferred with an Honorary Doctorate, D Litt. by The UWI at the Mona Campus in 2009.
The citation for this award records her contribution to the Caribbean Artists Movement: "Dr. Anne Walmsley has long crossed over from being a distant enthusiast or detached observer of the still flowering Caribbean literary and artistic tradition: rather we can comfortably recognize her as an integral and active component of the Caribbean Artists Movement."
In 2012 Dr. Walmsley met with librarians at the Alma Jordan library after participating in the Bocas Literary Festival, where her latest book, Art in the Caribbean: an Introduction (New Beacon 2010), co-authored with Stanley Greaves, was discussed. They established a relationship which resulted in the donation of her collection of documents on Caribbean art [papers] in 2016-7. In the near future researchers will be able to access the collection for primary source materials such as exhibition catalogues, information about artists, interviews and correspondence with artists, photographs and other ephemera relating to art in the Caribbean.
For more information on this and any other Special Collection, kindly contact the West Indiana and Special Collections, Alma Jordan Library at 662-2002 ext. 83365 or wimail@sta.uwi.edu.