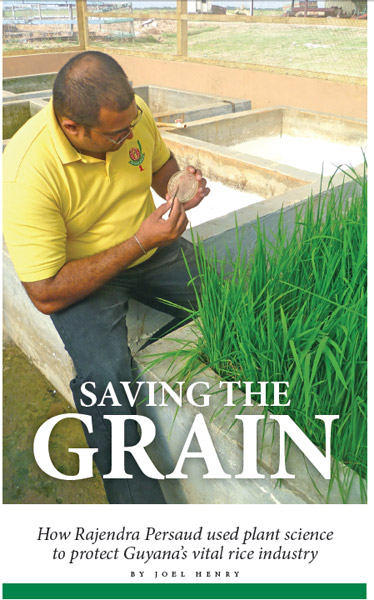 Little Abary is the epitome of a small, rural farming village. Forty three miles out from Georgetown, its near to the popular river, bridge and creek trail that share its name. The Guyana Chronicle calls it an "enchantingly quaint and impressive village". The villagers, the Chronicle says, depend almost entirely on their rice farming and vegetable cultivation for existence".
There is one member of the community of Little Abary that chose a different path:
"I come from a very poor family and my parents were doing cash crop farming for their livelihood," says Dr Rajendra Persaud. "So I was a slow learner and very playful as a kid - and not doing very well in school. They threatened to take me out of school and make me join them on the farm. That was the turning point in my life. I got serious about school and academics."
Serious is an understatement. At only 38 years of age, Persaud's scholarly work in plant pathology (the scientific study of plant diseases) has earned him coveted positions in academia in the University of Guyana (UG), The UWI St Augustine and other institutions. It has earned him international recognition and key positions in state agencies with jurisdiction over his country's agricultural destiny. In February of this year it even earned him the prestigious "Golden Arrow of Achievement Award", a national award of Guyana.
Perhaps most importantly of all, Rajendra Persaud's commitment to academics has allowed him to positively impact the lives of farmers like his parents, in agricultural communities like Little Abary, all over Guyana. How did he do it? Rice.
Yields under threat
Their names are "blast" and "sheath blight" - together they are the most devastating diseases affecting rice crops worldwide. Blast, caused by a fungus called Magnaporthe oryzae, is the most important rice affecting disease worldwide because of its massive reach (85 countries) and devastating effects. Sheath blight, caused by the Rhizoctonia solani fungus, is almost as potent a threat. In countries such as Japan and the US it has caused losses in crop yields as high as 20 to 25 per cent.
"We have some very serious disease problems with sheath blight and blast," says Dr Duraisamy Saravanakumar, Senior Lecturer in Plant Pathology at UWI St Augustine's Faculty of Food and Agriculture (FFA). "They cover all stages of the plant, starting from the seedling to the harvest. This means they can lead to severe yield loss."
When Dr Sara (as he is commonly known) says "we", he is speaking about major rice producing countries. And Guyana is very much a rice producing country. Rice is one of the six major export commodities that comprise 60 per cent of GDP, and a major contributor to agriculture's more than 15 per cent of GDP. In the words of a United Nations Environment Programme (UNEP) document on the Guyana rice industry, "the industry has become one of the economic cornerstones of this country".
This means threats like rice-affecting diseases can have a major negative impact on the economy. As a young academic from a rural background, Persaud found himself involved in the field of plant pathology right out of secondary school, becoming a trainee with the Guyana Rice Development Board (GRDB). He's been on that path ever since, acquiring his diploma from the Guyana School of Agriculture, his degree from UG, and his master's from the Indira Gandhi Agriculture University at Raipur, in India. Then came The UWI.
"I was on a visit to Guyana in 2015 with Dr (Lynda) Wickham (Senior Lecturer, Crop Science/Post-Production Technology at FFA)," said Dr Wayne Ganpat, Dean of the UWI St Augustine FFA, recounting how he first met and recruited Dr Persaud to do his PhD in Trinidad and Tobago.
At the time, Persaud was working for the GRDB at their Rice Research Station in the village of Burma in Mahaicony.
"He was doing amazing work," says Ganpat. "We saw the potential in him, and the zeal. We recruited him right there on the spot."
Because Dr Persaud is a committed family man (he is married and has three children) the FFA designed a special programme for him where he would come to the St Augustine Campus for his courses and then go back to Guyana to do his research. Through this process he completed his PhD, an experience he looks back on happily.
"My experience was wonderful," he says, describing the "professional, dedicated and experienced" staff he met with at The UWI and the FFA's Department of Food Production in particular. Persaud speaks highly of Dr Ganpat "who was always there to help" and Dr Sara, his supervisor, who gave him "support and expert guidance."
"Studying at UWI was a life-changing experience," he says.
National impact
Through his groundbreaking work in Caribbean rice pathology, Dr Persaud has changed lives himself, particularly those of Guyanese rice farmers. It's important to remember that his work was not about scientific inquiry removed from the general concerns of society. He had a very specific problem to solve - how to protect the country's rice crops from blast and sheath blight.
He came up with a two-pronged "sustainable disease management strategy". The first was a screening programme to find varieties of rice genotypes that are more resistant to the diseases.
Dr Sara says, "he screened 103 genotypes and identified the resistant types. He also did molecular work on genotypes specifically for blast to determine what proteins are responsible for resistance."
This allowed Dr Persaud and the GRDB to recommend these more resistant varieties to farmers. "These varieties were widely cultivated and have resulted in higher yields and profits to the rice farmers and the country itself," Persaud say.
The second part of the strategy was the development of disease-fightings extracts of plants such as thyme leaf, marigold and clove; bio-pesticides; and new generation fungicides. Persaud says, "these new products not only aid in the effective management of rice diseases in Guyana but also resulted in better quality paddy grains, leading to higher yields."
The successful disease management strategy and the benefit it has brought to Guyanese society has not gone unnoticed. On February 23, 2019, Persaud was among 77 nationals honoured by the Government of Guyana at its 49th anniversary as a republic. He received the "Golden Arrow of Achievement", the fourth highest honour in the Order of Service of Guyana.
The Golden Arrow can be awarded to "any citizen of Guyana who has performed an outstanding and specific act of service or achievement of an exceptional nature", a statement on Guyana's orders and medals states.
It's an enormous accomplishment, especially for such a young man.
"It's a wonderful feeling to see the Government and people of Guyana recognise your contribution to service, science, research and development," he says. "It gives you the motivation to continue and do better."
And he's not planning on slowing down anytime soon. Dr Persaud is intent on continuing his research and doing a post-doctoral fellowship. He even has his eyes on returning to UWI. "Afterwards I may come join the FFA team and share some of my knowledge and experience."
Whatever path he follows, Rajendra Persaud will remain guided by the same commitment to community and passion for the science of agriculture that took him out of the rice farm and brought him right back.