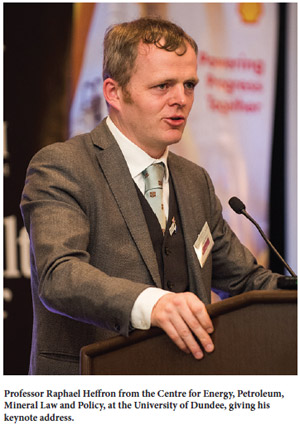 How do we continue to provide energy to the world while reducing our carbon footprint?"
This is the challenge facing energy producing countries such as Trinidad and Tobago, and the companies that provide their energy services. From March 27 to 29, The UWI Faculty of Law (FoL) brought together local and international academics, policymakers, and state and private sector players in the energy industry to grapple with this urgent topic at the 3rd Biennial UWI Oil and Gas Law Conference and Just Transition Initiative 2019. The theme for this year's conference was "The Relevance of Renewable Energy in the Caribbean".
During the opening ceremony of the conference (held at the Hilton Hotel and Conference Centre) Ms Alicia Elias-Roberts, Deputy Dean of the FoL at UWI St Augustine and Conference Chair, said the theme for this year's conference was in line with the mission of The UWI to support the development of the region and beyond through education and ideas. She also remarked that adding "Just Transition" to the conference was based on an awareness that the Caribbean must find creative ways to transition to renewable forms of energy.
In her remarks at the opening ceremony, Ms Wendy Fae Thompson, Vice President and Managing Counsel, BPTT said:
"At BP we believe that hydrocarbons will continue to play a major role in energy consumption into the future, yet energy companies must find ways to enable a lower carbon future."
This is especially true for Trinidad and Tobago, an island surrounded by hydrocarbons to the North, South, East and West. We have been able to use these abundant resources to become one of the largest exporters of LNG, methanol and ammonia in the world. As a result, our economy is inextricably tied to these exports. However, these achievements have not come without consequences. As a nation we are the 2nd highest emitter of CO2 per capita and the 3rd most energy intensive country on earth.
All of the keynote speakers gave sterling presentations which were very much appreciated by those in attendance. Keynote speakers included Vonda Brunsting of Harvard University, US; Professor Raphael Heffron from the Centre for Energy, Petroleum, Mineral Law and Policy, at University of Dundee; Kevin Ramnarine, Former Minister of Energy; Anthony Paul, Energy and Strategy Adviser, Aces, Caribbean Energy Specialists Ltd; Mrs Indira Rampaul-Cheddie, Senior State Counsel, Ministry of Energy and Energy Industries; and Shane Grimes, Lecturer, University of Coventry, UK.

The timely and relevant topics included oil and gas law contract re-negotiation, taxation, environmental justice and energy issues in transitioning to a greener economy. Several major oil companies, including BPTT, Shell and Atlantic LNG; several universities; and the Ministry of Energy and Energy Industries collaborated with The UWI to sponsor the conference. Ms Elias-Roberts noted that the UWI is keen to develop oil and gas law because it addresses an area that is critical to the developmental needs of the region, and Trinidad and Tobago in particular.

The conference received many accolades from attendees: that they found it "relevant, informative, and instructive'' and the Faculty of Law was congratulated for creating an important forum for energy specialists to share in their knowledge and experience which can lead towards important legal changes.
---
Ms Alicia Elias-Roberts is the Deputy Dean of the Faculty of Law at The UWI St Augustine Campus and Chair of the Oil and Gas Conference and Just Transition Initiative 2019.