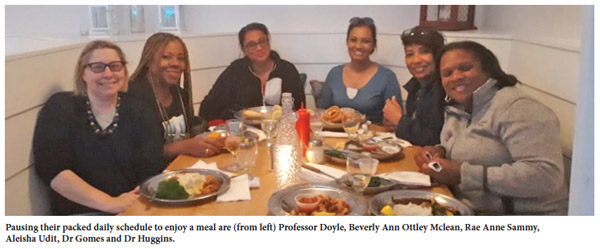 "Social work", a statement from the University of Missouri's School of Social Work says, "is the heart and soul of the helping profession". In almost every sphere of social vulnerability - child welfare, the elderly, criminal justice, domestic violence, family services and on and on - social workers provide invaluable support for individuals and communities. But who helps the helpers?
The Social Work Unit within the Department of Behavioural Sciences of the Faculty of Social Sciences at UWI St Augustine has embarked on a unique initiative for just such a purpose. This past March, three masters-level social work students took part in a week-long student exchange at Quinnipiac University (QU) in Connecticut, USA. And they have returned revitalised, re-energised and ready to contribute to the development of social work in T&T.
"I came back a different person," says Mrs Rae Anne Sammy, a senior social worker with the South West Regional Health Authority (SWRHA) and one of the pioneers of the profession. "Doing what I have done for the past 25 years I was almost brought to tears at some points. Every day was anticipating the unknown, not knowing what I was going to see but excited."
She adds, "Coming back home I know I have so much to do (for the profession) and not much time left to do it."
In general, social workers tend to be underpaid and overworked. Speaking specifically about conditions in the UK but mirroring conditions worldwide, Professor Ray Jones of Kingston University was recently reported as saying "working conditions for social workers (have) deteriorated, with bigger caseloads, less support and inadequate pay". The same could be said for Trinidad and Tobago.
"Sometimes you feel like your 'spinning top in mud'," says Aleisha Udit, a school social worker and one of the three students who took part in the exchange. "It is one social worker for six or seven schools. How does one of me deal with 98 cases a week?"
She is much more positive now: "At my church we have a theme every year. This year's was 'thoroughly astounded and completely overwhelmed by God'. That's how this trip made me feel. It gives me hope for social work in Trinidad and Tobago."
The student exchange was an initiative of Dr Camille Huggins, Lecturer in the Social Work Unit of the Department of Behavioural Sciences, working with Maya Doyle, Assistant Professor of Social Work at QU. In February 2018, Professor Doyle spent a week in Trinidad and toured the local welfare agencies. The following March Dr Huggins and Dr Emmanuel Janagan Johnson, Lecturer and Coordinator of the Social Work Unit, did the same in Connecticut. March 2019 is the first time social work students have taken part in the exchange, making it the first time an initiative of this type - developing to developed world social work student experience - has taken place.
The students, along with Dr Huggins and fellow lecturer Dr Maria Gomes, had their air travel paid for through the exchange initiative and they were very warmly accommodated in the homes of Quinnipiac social work faculty members. Their activities included attending postgraduate-level classes at QU, visiting private and public social welfare organisations and institutions, and interacting with the society.
They observed up close the work of "Restoring Promise", a young adult reform initiative created by Alex Frank under the Vera Institute of Justice (a prison reform organisation). Through Restoring Promise they spoke with a prisoner who is benefitting from the institute's work. They visited Rushford, a major mental health care institution, and observed a group therapy session.
One of the major highlights of the student exchange was the trip to the Department of Children and Families (DCF), Connecticut's state agency for family services. While there they were able to sit down with the newly appointed commissioner of the DCF, Vannessa Dorantes, herself a social worker.
Seeing a social worker in such a position of prominence and responsibility gave the students a deeper understanding of the potential of the profession.
"When I came to Trinidad to teach I realised that the social workers here had an identity problem," says Dr Huggins, who is from New York City in the US. "They didn't understand their capabilities. I wanted to bring them to the US to get a different sense of what the profession could be."
That goal has most certainly been achieved.
"We are prepared to do what we have to do to make a difference," says Beverly Ann Ottley Mclean, a human resource professional with the T&T Police Service. With a background in theatre and dance, she was particularly impressed with the use of art, colour and motivational messages at Connecticut's social welfare agencies. She was also impressed with the social worker "mindset".
She says, "they have a lot of obstacles, like us, but they persevere. We have to put that mindset into play. We have learned a lot through this scholarship and we are eager to go out there and make a difference."