Abiding Vision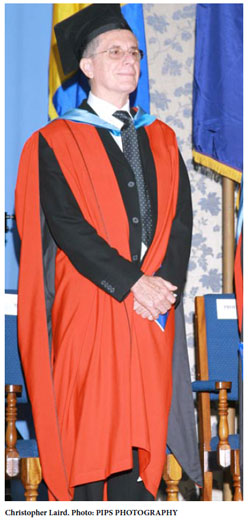 Christopher Laird spoke on behalf of the honorary graduates at a reception on October 30, 2009.

Ever since I received news of this award I have wondered what it is that made an ordinary person, like me, develop a track record that the University would judge worthy of honour. The answer I keep returning to is inspiration. That is the only thing that could have driven me to my limits. Reading the published remarks of my fellow graduates the word "Vision" kept coming up. Something inspired in us a vision that informed and motivated our efforts.
As far as my own story goes, my parents have an abiding passion for this country and this region. Dreams of the development of a Caribbean civilisation were woven through and through our lives as we grew up. Federation was in the air and the young Derek Walcott, fresh from St. Lucia; the young Rex Nettleford, in Trinidad to pay homage to Beryl McBurnie; Carlisle Chang, Boscoe Holder, Noel Vaz, CLR James, the pioneering anthropologists Dan Crowley and Andrew Pearse, deeply engaged in the process of claiming space on the world stage for our culture, were all people who would be in our house at one time or another.
Imagine it: My father erected a full size Federal Flag in the front yard of our home in staid St. Clair, that beautiful, optimistic, innocent flag of sun and sea would greet me everyday as I walked home from QRC with its own tradition of intellectual advancement and service.
As an architect my father dreamed of being the Caribbean Oscar Niemeyer and building a Caribbean Brasilia when Port of Spain was chosen for the capital city of the Federation.
When I went away to study in London, I became immersed in the Caribbean Artists Movement under the leadership of such giants as Edward, now Kamau, Braithwaite, Andrew Salkey and John la Rose. There I met and engaged with Wilson Harris, the young Ken Ramchand, Shiva Naipaul, Wayne Brown, Michael Anthony, Aubrey Williams all inspired by the vision of a wider Caribbean civilisation. It is not a coincidence that three of the honorary graduates this year were all intimately involved with the Caribbean Artists Movement.
I returned home to further idealistic inspiration from Lloyd Best and those in the Tapia House Movement. In fact, the first time I met Angela Cropper was at a Tapia-inspired teacher volunteer session at a school in Tacarigua nearly forty years ago.
These models and mentors inspired me with their faith in our place in the history and future of the world. As ordinary as I felt myself to be, I could not fail their faith. They and many others afterwards, too many to name here,ensured that I did the work and pushed ever toward the dream, the "vision."
Many of those special souls are here today in spirit if not in the flesh as special guests of the honorary graduates. We honour them especially. My work in the arts and in mass media has been devoted to putting the achievements and the vision of those who inspired us and others like them before the eyes of subsequent generations, that we may as a society act on their inspiration.
There cannot be anything too special about my story. My fellow honorary graduates, I am sure, can attest to those influences that have inspired their work and supported them in maximising their potential.
That The University of the West Indies has seen it fit to give us this honour is wonderful. Recognition not only helps us who are recognised but also, we have to assume, identifies models for the inspiration of future generations.
In a world where greed seems to have supplanted vision, young people today are as hungry as ever for inspiration, eager to adopt a positive vision of our future. From my own experience as a student and as a manager of scores of young people in a creative enterprise like Gayelle, the most valuable gift a teaching institution can give its students is an inspiring vision of how they can best place their talents in actualising our ideals.
We are deeply appreciative of this special honour even while we are acutely, if not guiltily, aware of those deserving many, working with great fortitude in the grip of a vision that consumes them, yet to receive such prestigious recognition.
On behalf of my fellow honorary graduates I wish to acknowledge the investment The University of the West Indies is making with these awards and assure you that we are inspired to redouble our efforts and live up to the expectations implicit in this recognition.