November 2009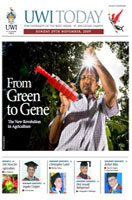 Issue Home >>
UWI Calendar December 2009 - January 2010
International School for Young Astronomers
Monday 7 to Friday 18 December
Physics Department, UWI, St Augustine
The prestigious International Astronomical Union's (IAU) 31st International School for Young Astronomers (ISYA 2009) is being hosted by the Physics Department at The University of the West Indies, St Augustine from 7-18 December, 2009. Master's and PhD level Astronomy students from around the world will be participating in this school, which is being held in this region for the first time. The course will be run by Astronomy professors from Chile, USA, United Kingdom, France and Belgium. Since it is the International Year of Astronomy also, the ISYA will focus on other activities as well, including public lectures in Astronomy and a workshop for teachers. The chair of ISYA 2009 is Prof. Jean-Pierre de Greve (Belgium) and co-chair is Dr. Shirin Haque (Trinidad).
Further information can be found at www.sta.uwi.edu/fsa/physics or through the Physics Department, UWI at extensions 2051, 3113, 3846.
---
Hydro-Climatic Disasters in Water Resources Management
Wednesday 2 to Friday 4 December
Faculty of Engineering, UWI St Augustine
Global Water Partnership-Caribbean (GWPC) in collaboration with The UWI Disaster Risk Reduction Centre, Caribbean Waternet and Office of Disaster Preparedness and Management (ODPM) present a workshop on Hydro-Climatic Disasters in Water Resources Management. Public and private individuals, NGO's/CBO's, social scientists, water and wastewater managers, legal practitioners and staff of local governments are invited to attend. Fee: TT$1,500
To find out more, please contact Kevin Awai at ceec@eng.uwi.tt or eng.inst@eng.uwi.tt, or call 1-868-662-6267 or 1-868-662-2002 ext 2197/2175, or visit The UWI Faculty of Engineering website at http://www.eng.uwi.tt/depts/ei/
---
Introduction to Radiation Safety
Thursday 3 December
Room 101, 1st floor Block 1, Faculty of Engineering
The UWI's Faculty of Engineering, in collaboration with GNF Solutions Ltd, will be presenting a workshop titled, "Introduction to Radiation Safety," on Thursday 3 December, 2009, from 8.30am-4.30pm, at Lecture Theatre 3, 2nd Floor, Block 13, Faculty of Engineering. Ricardo Rodriguez, Fredrison J. Jagessar and Anthony Archibald will present the workshop, along with guest speaker Professor Stephan Gift, Professor of Electrical Engineering, Leader of Electronics Systems Group. The cost to attend the workshop is TT $1,150.00 per participant and the package includes a seminar workbook, lunch and refreshments and a certificate of participation. All cheques should be made out to "Engineering Institute" (Linx available).
To find out more: The Engineering Institute, Faculty of Engineering UWI, Tel.: (868) 662-6267/(868) 662-2002 ext 2175/2197, Email: ceec@eng.uwi.tt, enainst@eng.uwi.tt
---
Bernstein's Chichester Psalms and Music for Christmas
Saturday 5 December, 2009 / 7.30pm, Daaga Hall, UWI, St. Augustine
Sunday 13 December, 2009 / 6pm, St. Paul's Anglican Church, Harris Promenade, San Fernando
The UWI Arts Chorale and the National Sinfonia Orchestra salutes Christmas with its rendition of Bernstein's Chichester Psalms and Music for Christmas. There will be two performances, both conducted by Musical Director, Jessel Murray: Tickets cost TT$125.
For tickets, more information and to make reservations for St. Paul's, please call (868) 743-0841 or (868) 398-8576.
---
Interlocking Basins of a Globe
Conference honouring Nobel Laureate Derek Walcott
Tuesday 12 to Friday 15 January, 2010
Poet, playwright, essayist, critic, dramatist and painter, Derek Walcott, is recognised as one of the world's greatest living writers. Among his many awards and honours is the 1992 Nobel Prize for Literature. The conference Interlocking Basins of a Globe will explore the multifaceted nature of Walcott's work. It invites reflections on his evolving thought and analyses of Caribbean civilization.
Papers are on the following topics:
Literary Ghosts and confrères
Here and Elsewhere: The Politics of Exile and Belonging
The Visual Imagination
Rethinking the Sublime
Time, Landscape and Myth
Walcott's Cities: A Babel like Heaven
Caribbean Contestations
Walcott as Critic, Commentator and Journalist
---
UWI Fete
Sunday 17 January, 2010
St Augustine Campus, UWI.
It has been twenty years of awarding bursaries generated by the annual fete that has become one of the biggest social events on the Carnival season's calendar. The theme of this year's fete will be China.