Ready for a Tsunami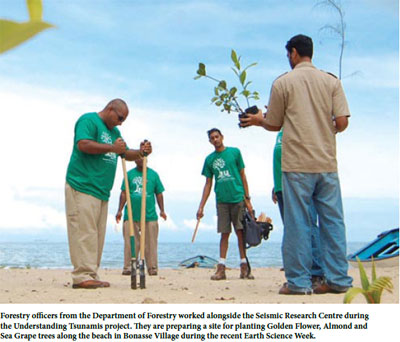 Students from two of Trinidad's remote coastal communities are now better educated on tsunami safety thanks to an outreach initiative by the UWI Seismic Research Centre (SRC).

This year, the SRC chose Understanding Tsunamis as the main theme for its Earth Science Week celebrations and targeted two schools for raising awareness on tsunamis. "Currently, there is a lot of work being done to establish a tsunami warning system for the Caribbean but we still have a long way to go," said SRC Education Officer, Stacey Edwards. "In the meantime it is very important for people living and working in coastal areas to be able to recognize a tsunami's natural warning signs and to be able to respond appropriately."

During Earth Science Week, the SRC and the Office of Disaster Preparedness and Management (ODPM) sponsored a group of geography students from Mayaro Secondary School to attend a student workshop at the SRC in St. Augustine. During the workshop, the students learned about the causes of tsunamis and they learned how to recognize a tsunami's natural warning signs.

Students of Cedros Secondary School benefited from a similar educational programme when a team from the SRC visited the fishing
community of Bonasse Village. In addition to learning about tsunamis, Cedros Secondary students planted trees along the beach as part of the SRC's Tsunami Ready Environment & Education (TREE) event. According to the Food & Agriculture Organization of the United Nations (FAO) coastal forests can reduce the depth, force and velocity of a tsunami and other large wave events.

"It was great that first the students learned about the potential impact of tsunamis and then they actually went outside and did something to reduce that impact on their community," commented Dr. Robert Watts, SRC Volcanologist.

The SRC partnered with the Department of Forestry in the Ministry of Agriculture Land & Marine Resources and the Trinidad & Tobago Meteorological Service and received generous sponsorship from First Citizens, ODPM, Neal & Massy Foundation, Scrip-J and Cool Connections Ltd.

Although tsunamis do not occur frequently in the Caribbean, the region is vulnerable to these events and it is hoped that students will impart the knowledge gained during Earth Science Week to other members of their coastal communities.