November 2009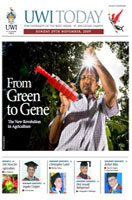 Issue Home >>
UWI Academics elected to CAES Executive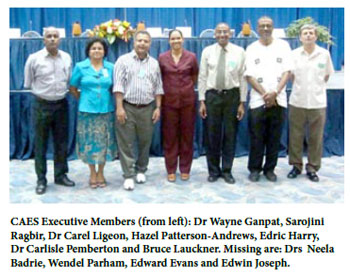 The 28th West Indies Agricultural Economic Conference, the biennial flagship activity of the Caribbean Agro- Economic Society (CAES) was held in collaboration with the Barbados National Agricultural Conference in July in Barbados. Forty technical papers dealing with food safety, modern development in Caribbean agriculture, rural development, food prices and food security issues, economics of food crop production, agri-business, marketing and trade issues were presented.
At the opening ceremony, Dr Chelston Brathwaite, Director General of the Inter American Institute for Cooperation on Agriculture (IICA) gave a stirring call for a new development model for regional agriculture. He countered the recent calls for a new 'Green Revolution' in agriculture, reminding of the negative consequences of that development paradigm: exclusion of small farmers; dependence on pesticides and fertilizers and disregard for environmental issues. He proposed a new model focusing on strategies to increase investment in agricultural research, innovation and technology transfer, a new agricultural education curriculum, and the transformation of regional ministries of agriculture. Dr Brathwaite noted that while the Caribbean is dependent on agriculture, this is not emphasized in the educational system, so the curriculum needs revision.
At the Conference, a new Caribbean Agro-Economic Society (CAES) executive was elected comprising Dr Carlisle Pemberton, (Senior lecturer, UWI) as President (re-elected), Sarojini Ragbir (Communication Coordinator, UWI) as Vice-President, Hazel Patterson-Andrews (lecturer, UWI) as Secretary, Dr Neela Badrie (Senior lecturer/researcher, UWI) as Director of Publications, Edric Harry (Policy Analysis and Planning Specialist, IICA) as treasurer, Bruce Lauckner (Head, Strategic Alliances/Biometrician, CARDI), Dr Carel Ligeon (Associate Professor, Auburn University Montgomery), Dr Edwin Joseph (Associate Professor, Grand Valley State University, Michigan), Dr Wendel Parham (Consultant), Dr Wayne Ganpat (Deputy Director, Extension, Ministry of Agriculture, T&T), Dr Edward Evans (Assistant Professor and Associate Director, University of Florida) as members.